Viewing an art house film is always a very personal experience.  It never ceases to amaze me how each viewer takes away such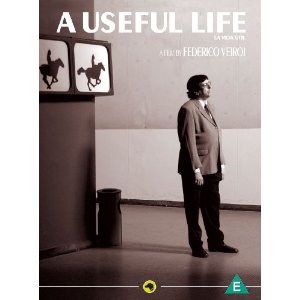 different thoughts and feelings from the next.  A Useful Life, at first glance, is a somewhat dry screenplay seemingly directed at real cinephiles but it touched me as a sentimental and amusing anecdote of insular life.
With a strong retro feel (it is filmed in colour and then printed in black and white), Jorge (Jorge Jellinek) invites us into his world wholly centred around his 25 year stint as a hardworking programmer at the local cinema.  Federico Veiroj (director) has painstakingly ensured that Jorge's work is portrayed authentically.  We are aware that his world is his work with only a phone call from his father to break the monotony of his duties.  Other than this extreme dedication to his work, we learn of his pursuit of Paola (Paola Venditto) a university law school professor, who frequents the cinema.  And, in fact, it is Jorge's pursuit of her which lifts the tedium and drab feel to the story and gives him a spring in his step.
But Veiroj is adamant that Jorge is not to be mocked in his perspective of life: 'We didn't want to make fun of him as a film geek'.  With the news of the cinema's impending closure, we see Jorge explore the world outside of his insular film existence.  As he heads to the university law school via a hair cut, shot with subtle wordless humour, we witness a shift in his spirit and attitude.  'I like the transformation he undergoes – the way he almost turns himself into a character of his own movie' adds Veiroj.
And so my verdict of these 70 minutes of character observations differs greatly from my cinema date's reaction.  She did not enjoy the film and found it 'too bizarre for words'.  I, on the other hand, found Jorge to be charming, amusing and utterly real and his actions and attitudes to be both poignant and touching.
As I said, art house viewing is personal.