Along with a hairdresser to blow dry my hair daily at home, I dream of a world where I have my own personal Thai chef.  And so when Brett Cowie rocked up, a couple of hours in advance of our guests arriving last Friday night, I was too excited to actually interview him.
He seemed unbothered.  Brett, 39, is very cool yet charming. Initially, I had been sent a press release about his Old School Thai curry pastes, then I heard that he in-home chefs and finally I read that his secret curry pastes are a tribute to his Thai grandmother's cooking.  There's no doubt that I fell for the romance of it all.  Brett spent the first 18 years of his life in Thailand and he has certainly picked up the right amount of influence to be authentic.
Brett and I had discussed menu options in advance over email.  Well… he had suggested what he might make and I had enthusiastically agreed.  All I had to do was invite some hungry friends and ensure we had plenty to drink.
It was one of those rare and perfect London summer evenings so we relocated our kitchen table into the garden.  He (not to be confused with Brett) had been put in charge of some lethal cocktail making and the cool Ibiza tunes while I laid the table.
Brett brought our first course, Yum Nheurh, into the garden. A spicy salad of grilled beef with red chillies, cucumbers, onions, shallots and coriander with an outstanding dressing of Thai bird's eye chillies, lime juice, palm sugar and garlic.
And while we drank Singha beer and enjoyed our salad, Brett was back in the kitchen rustling up Pad Met Ma-Moang Himaparn (turkey, cashew nuts, spring onions, toasted red chillies, garlic and onion), Tow-Hoo Pad Twa Ngork (tofu stir-fried with beansprouts, garlic, chillies and spring onions) and Gaeng Phet Gai (chicken red curry with cherry tomatoes, Thai purple aubergine, chillies and basil).  Served with Thai jasmine rice, we ate and ate and ate.  I was curious as to why the turkey was quite so delicious.  Revealing his secret sauce, Brett explained that it had been marinated in this since the previous day.
Of course, as the evening progressed, the hungry guests became overwhelmingly less hungry and more intoxicated. Rowdy and hilarious, I was concerned we might be a little shocking to our Thai master chef.  But no.  He thought we were amusing and was even persuaded to join the party as we ate our chilled lemongrass, honey and lime sorbet.
Probably the best Thai food in London – I suggest you book him, order his secret curry pastes and, if you're an investor, back him to start his own pop-up restaurant.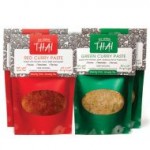 Brett charges approx. £45 per head (depending on the dishes chosen)
His secret curry pastes can be bought here