Every two weeks I disappear for 90 minutes.  My phone is switched off and I am wholly uncontactable.  Every minute of those 90 feels like a birthday treat or Christmas-come-early because my creative writing teacher and I are talking and writing and talking and writing – basically finding new ways to explain life and our feelings and choosing the words which describe them best.
Great product. I do switch this probiotic with another brand just to keep my tummy from getting used to one product. Like this one the best.
Buy cialis professional no prescription
! Canadian drugs are only shipped from our affiliated Canadian dispensary.
It was Lady Y who first met Dr Jackie Blackman as she had attended one of her creative writing sessions.  She couldn't get on the phone fast enough to urge me to hop over to Primrose Hill to meet Jackie.  'She is JUST your cup of tea – I think you'd really enjoy her company' she explained.
Jackie is great company, let alone a fantastic teacher.  Let's face it, it's not easy to teach adults (Mini's piano teacher once told me that) and writing is incredibly personal too.  Firstly sharing the thoughts and then adding some order to them, I am currently working on a short story, mostly for my own satisfaction.
While the sessions are usually focused on my work and me (in the most therapeutic way), I did force Jackie this week to tell me more about her PhD in Drama Studies at Trinity College Dublin, her creative writing accolades and awards and her extensive personal interests. And because I am regularly asked for book recommendations I also asked her to bring along her all-time favourite books.  However, she has only recently moved to London (from hometown Dublin) and could only bring those within arms reach.  Anyway, I have combined her list with mine (less high brow so pretty easy to spot) to give you all a summer reading list to pick from.
Book List:
1.  In My Skin* by Kate Holden (*I can't put this down at the moment)
2.  Portrait of an Artist by James Joyce
3.  By Grand Central Station I Sat Down and Wept by Elizabeth Smart
4.  Songs without Words by Ann Packer
5. The Immigrant by Manju Kapur
6.  The Age of Miracles by Karen Thompson Walker
7.  Sarah's Key by Tatiana de Rosnay
8.  The Reader by Bernhard Schlink
9.  The Little Disturbances of Man by Grace Paley
10.  Cry, the Beloved Country by Alan Paton
Let me know which you enjoy (or have already enjoyed) and if you too would like to experience 90 minutes of uninterrupted word play, let me know and I will introduce you to my writing genie.
Dr Jackie Blackman (blackmaj@tcd.ie) runs one-on-one sessions as well as tailored groups for various tasks:  novel writing, improving personal and professional presentations, re-examining life issues through writing, improving general writing skills, beginners creative writing and advanced creative writing.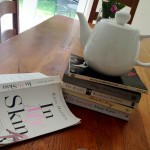 COMPETITION:  The stunningly understated California teapot by La Cafetiere, designed by British ceramic designer Alison Appleton, complemented the stack of book on my kitchen table (see pic).  I had made a pot of fresh mint tea (hidden inside the pot is an integral infuser basket) to take us through the 90-minute lesson.  I have three more teapots (worth £41 each) to share with you so sign up to my blog today (top right hand corner of home page) and you will be entered into the prize draw.  Winners will be chosen on 27 July 2013.