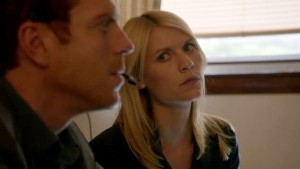 Carrie Mathison, played by Claire Danes, in the gripping TV drama Homeland, is a very current and compelling character, the latest in an illustrious line of top female TV agents.
For longer than a decade we have admired the legend that is Jack Bauer (24's season 8 finale was aired May 2010). The male protagonist has repeatedly wowed us as, single handed, he prevented major terrorist attacks on US soil. But was his relentless determination, energy and focus  – dare I suggest – unrealistically flawless?
So now at today's water cooler, there is no doubt our Sunday evening is currently dominated by less-than-perfect but equally addictive Carrie Mathison, the CIA officer in Homeland. Debate sparked at Culture Compass as to what makes a great television agent or cop? Do we feel more comfortable with a character defect or two?  Does a woman in, what was, a man's world make for more dramatic viewing? And if so, who have been our favourite knuckle-busting females over the years?  Head strong, tough as nails, quick witted, a wardrobe to drool over… here's our guide to the women calling the small screen shots on Culture Compass.