I reckon that there is a little bit of Cinderella in every one of us girls.  If it isn't the rags to couture dream transformation, it might be the handsome prince, the true love or maybe even the feeling of revenge.  It's the fairytale which goes on and on pleasing.  And that just about sums up our afternoon and evening at Glyndebourne last Friday; it was utterly pleasing.
Glyndebourne was founded by John Christie and his opera singer wife, Audrey Mildmay, in 1934.  With a mission to make opera more popular in the UK, they decided to build, in the grounds of their home, a 300-seat theatre fully fitted with an orchestra pit and stage as well as proper technical and lighting equipment.
And so the Glyndebourne Opera Festival was born.  Now, more than 150,000 music lovers enjoy the 120 live performances between May and August each year – and many more watch the operas at their local cinema via the recently launched Glyndebourne on Screen programme.
The opera He had chosen for us and our accompanying Canadian London-living opera-obsessed friends:  La Cenerentola (Cinderalla) by Rossini.  It has been said, slightly insultingly by those more knowledgeable about opera than me, that Rossini's La Cenerentola is for half wits.  The composer has taken the simple tale and has over-exaggerated the cliff hangers and good-reigning-over-evil moments.  Yet, I must admit, as an opera-ignorant, this Peter Hall revival (last seen in 2005) certainly entertained me in its suitably light-hearted fashion. Although I must admit that Elizabeth DeShong's characterisation of Cinders did need a little imagination at times.  But overall, I felt that Rossini's take on the fairytale mixes the right amount of slapstick comedy with magical enchantment.
I have fond memories, as a child, of my parents dressing in black tie at midday and swanning off with their opera-loving friends.  And then, when Little Bro and I were considered culturally worthy (the tickets are not cheap), we were bundled into the car, dressed in our Sunday Best, to make the long journey to Lewes in East Sussex.
In keeping with the Cinderella theme, I needed a dress.  And who better to be my fairy godmother than the very talented British dress designer and stylist, Suzannah.  Knowing that we would be not only training to Lewes but also picnicking on the lawn, I was keen to wear something really comfortable yet suitably elegant.  Her 30s Vintage Racing Heart Print Silk Tea Dress fitted the bill perfectly.  And I left her boutique on Bristol Gardens, Maida Vale, fully inspired by the 1930s design (and also thrilled as this would echo the era Glyndebourne first opened its curtains), and skipped off to have my hair 'fixed' appropriately.
As is customary, the 90-minute interval at 7pm (the performance begins at 530pm) allows the finest picnics to commence in the breath-taking grounds of Glyndebourne.  Many set up tables and chairs on the lawn – and some even bring butlers so that the occasion is as perfect as a fairytale.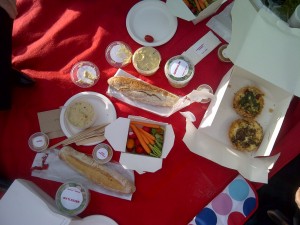 Although I didn't need a coach nor six white horses, we were still lacking our dinner.  As if by magic, in stepped the grocery shop and kitchen, Melrose and Morganwith two cool bags, masquerading as hampers.  They were packed full of pies, cheese, fresh bread, hummus and crudités, homemade pear piccalilli and summer Pimms jelly with strawberries.  The food was unbelievably fresh, superbly packed and very tasty.  Fit for a prince and his merry picnickers, there was no stomach rumbling during the remaining opera.
Needless to say, we were home before the clock struck twelve.
I saw La Cenerentola at www.glyndebourne.com 01273 813813 tickets start from £75.  Only until 10th July. 
I wore www.suzannah.com 's 30s Vintage Racing Heart Print Silk Tea Dress 020 72868280 £395
I ate www.melroseandmorgan.com 's picnic for two 020 7722 0011 £44.95
This article also appears on Culture Compass.