Are you sitting comfortably? And, I mean REALLY comfortably with happy feet? Then I'll begin. Because I have a good story to tell – one of comfort, design, aesthetics, innovation and some brilliant marketing.
Once-upon-a-time, in a land we like to call Earth lived a man called Ankur. Each and every day he scratched his head because his feet weren't happy. For when he was out of the house, he had plenty of well-designed footwear options but once indoors (where he spent a great deal of his day), he simply couldn't find a pleasing slipper, let alone one which he could customize.
Crocs, Havaianas, Campers… were all rejected. Nothing lived up to his pedi-desires.   As he searched and searched, it became evident to him that actually he had been sent to this Earth to design and manufacture slippers for the people.
Not all the people, I should add, only those who would understand his mahabis mission of detachable revolutionary sole, of cool colour choices, of everyday perfection.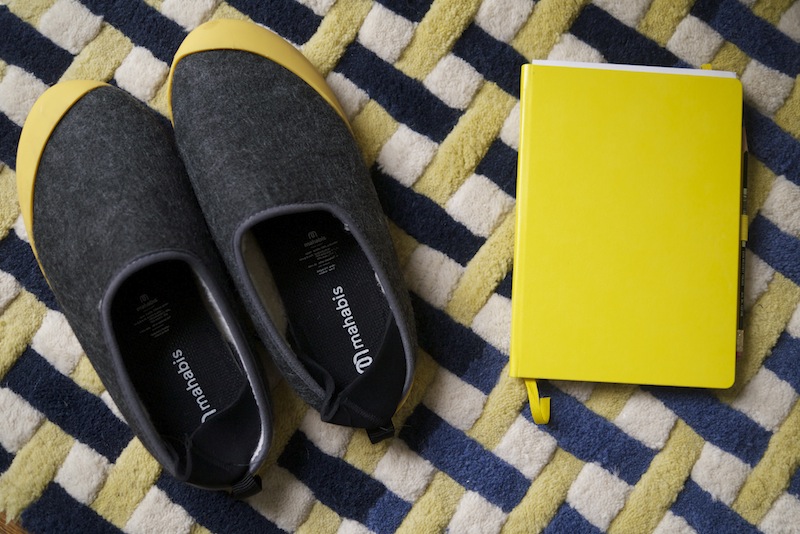 And so, in August of this year, the initial product from the lord and master at mahabis was born.
News spread fast via Instagram and other cool consumer groups and within days these new slippers were travelling worldwide to find appreciating feet. I managed to drag mine OFF my feet to leave the house last week – in search of an interview with this fairytale marketing hero.
As it turns out, Ankur's home and lifestyle are perfectly colour coordinated to match his products. And even his calculated calm manner fits the brand too. Much like the slippers, I found him pretty inspiring.
why did you feel so strongly that the slipper needed redefining? It was an age-old product, something that people always buy and yet it hadn't changed. In a world obsessed with high performance, it struck me that no-one was focusing on downtime, or working out how to enhance the products that help us relax, feel at home and comfortable.
which brand did you wear before you launched mahabis? Muji. I wore a lot of Muji. And got through a lot of their products. Then Havaianas. I love Havaianas. They make me feel like I'm on the beach. But it turned out I wasn't the only one to 'make do'. When I looked into it, I saw people with broken Vans, Toms and Converse -all potential slippers- but never really quite there.
have you ever designed footwear before?  Never.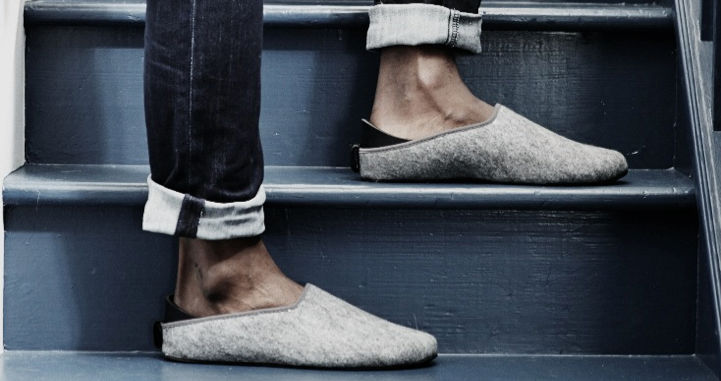 how did you choose your sole colours? They just seemed to amplify timeless colours, but weren't too predictable. We wanted to reinforce our Scandinavian inspired, unisex aesthetic, which meant colours that could be worn by anyone. I hope we've achieved that.
have you ever worn your mahabis out for the day?  I actually love wearing them around the office!
do you entertain at home in slippers? Yes, I sometimes sing and dance in them, if that's what you meant…
do you have spare pairs for your guests? So many! Our cat is buried deep in a pile of them! We love the way the Japanese provide slippers for their guests, it's a beautiful sentiment.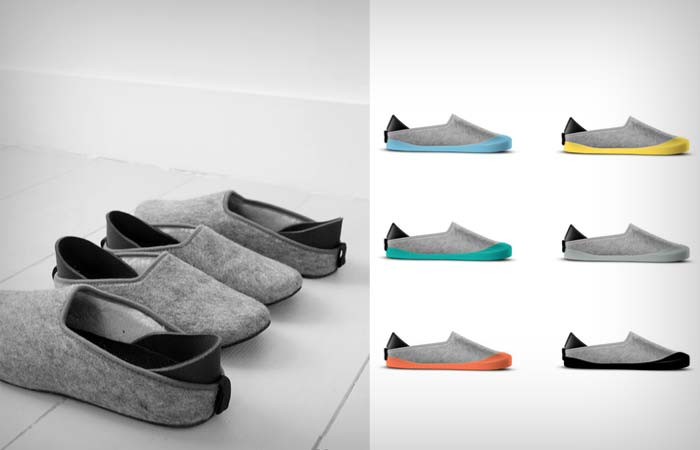 who would you love to wear your slippers? We've made our slippers to be worn by everyone, I'd be as delighted seeing the Dalai Lama wearing them as I would Snoop Dogg, and of course, anyone and everyone in between.
what were you doing when the mahabis idea came to you? Very little.
what's the global plan for the brand? mahabis has already sold to customers in over 50+ countries and we're really focused on a global direct roll out. We have some key territories we're focusing on in the coming 12 months, but importantly the feedback has been universally positive. It seems like we're crossing national borders and locking into a universal design aesthetic, that was my ambition from the start and I'd be delighted if we get anywhere near to that.
where might we find you having some time out? On a secret bohemian beach a few hours from London.
The fact that Mahabis slippers are only sold here online (but of course ship worldwide) is no slipper accident. The best marketing and product plans have been laid and you haven't seen anything yet… as I said… this is so much more than a slipper story.