About 20 years ago I worked at Freuds. Back then the world was a different place.  Guy Richie was our client on the night he first kissed Madonna and, less glamorously, I was responsible for media enquiries whenever a rat was discovered in KFC.  We had a silly amount of hilarious moments (oh how it rained the night SKY launched at Battersea Power Station) while busting a gut the rest of the time. And, as with most agencies, the clients had sky-high expectations of us and, more often than not, I'd drop down a floor to the directors' swish offices to seek out Alex Johnston.
You see, he was our Don of Mad Men. OK, I'm going to make him blush now but the thing was that Alex had (in his head) all the creative ideas we ever needed. And I distinctly remember a 23-year-old me making a mental note that one day I wanted his job.
Of course I've bumped into him since those Freud days. On Longboat Key, on Primrose Hill and once when I needed to borrow a slice of his creativity for a project I was working on. Either way, I wasn't madly surprised to hear that he has recently launched a cunning game app called Qikionary. Centred around 4 letter words (not so much the rude ones), his game tests your logic and vocab in equal measure – in a touch screen/interactive type of way. Known in this house as 'the hater of all app games', I downloaded it a couple of nights ago… and…yup..pretty hooked.
So I asked Alex to tell me where on earth the idea for Qiktionary came from…
I come from a family of word junkies.  While the other kids watched TV and listened to the radio, we communed over crosswords, Scrabble and 20 Questions.  It got to the point where myself and my siblings were not allowed to open our Christmas presents until we had solved the clues (painstakingly composed by my father) that adorned even the lowliest stocking filler.  The addiction followed us into adulthood and, to this day, I can't enjoy a normal bowel movement without the Times Cryptic as my laxative.  My brother is the same.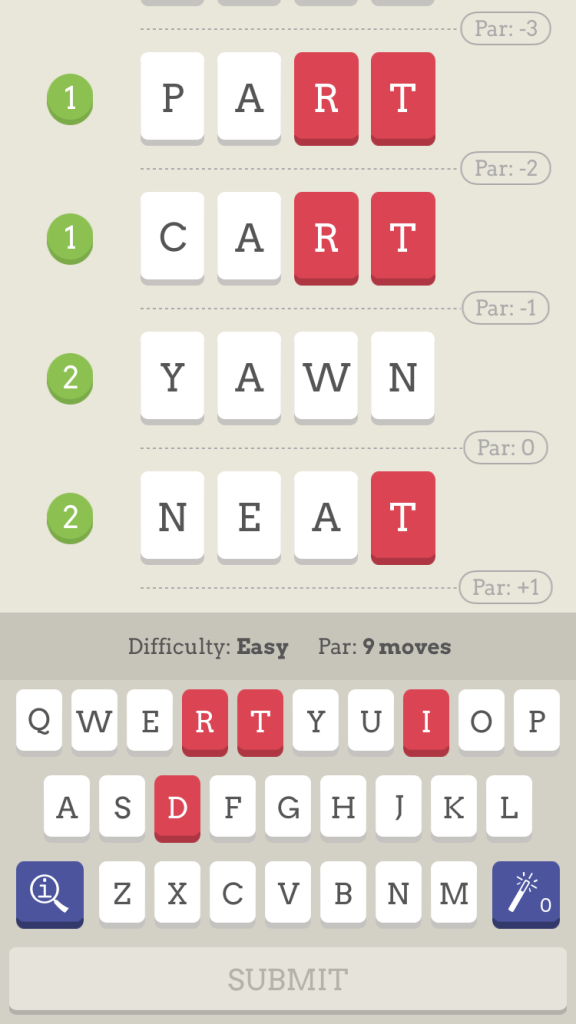 It's a habit that I have passed onto my own kids.  My daughter and I enjoy frequent pun-offs on a Saturday. She, in the basement of a Notting Hill record shop, and I, in a pub in Maida Vale, challenge each other to text message pun tennis.  It's usually something like "band names that you could eat".  Cue Bread Zeppelin, Elvis Parsley and so on.  
There was one game that my father and I often played to pass the time between placing an order in a Cafe somewhere in France and receiving the dish.  Sometimes we played for many many hours in one stretch.  The game was called Jotto.  One player picked any four letter word and his opponent had to guess it using trial, error, deduction and voacabulary.  The shorthand is 'Mastermind with words instead of plastic nipples'.  Its subtle blend of logic and language is something I remember fondly.
As the service in French restaurants improved, some decades passed before I played it again.  This time with my kids. 'This would make a good electronic game' I thought.
But, beyond solving a puzzle, it lacked a point.
Since meeting him in 2005, my relationship with John Lloyd has evolved from prospective business collaborator to mentor.  He is an extraordinarily brilliant and inspiring man and I would urge everyone to concoct whatever spurious set of circumstances they can muster just to spend an hour in his company. In John's mind, QI is not a TV show.  It is not a vehicle for Stephen Fry to dazzle us with intellect. It is not a quiz.  QI is rather a catalyst for unlocking curiosity, like Viagra for our natural inquisitiveness.  It asks us to examine our world through a lens of passion and interest rather than finite objectivity, thereby relegating the idea that we should know or not know something, but instead we should find our own connection with it.  But, to me, all that QI is and could be felt hamstrung by the unyielding boundaries of a TV panel show; and, more than anything, I wanted to show John that QI could flourish in different environments.
Such are the planets that required alignment for Qiktionary to be born; and, in May 2015, born it was.  The idea was to install the casual gaming experience of my father's  word-game together into the QI creed.  Unlock the hidden word and your reward is a new perspective on that word delivered through a QI fact. Simples. 
So here's the plan.  Download the app (which is free by the way) here and let me know your highest score!