It's those who shop on the high street who give shopping a bad name.  Recently upon hearing yet again:  I hate shopping; it just doesn't interest me from a high street shopper, I set myself a shopping challenge.  This week I needed to find three alternative ways I could enjoy a peruse, perhaps try on and generally flirt with the idea of making purchases.
Monday evening
Accompanied by two NYC vintage-loving friends, I rocked up at Home House for one of Buy My Wardrobe's regular pre-loved designer clothes sales.  The events are always held in upmarket locations and open with a VIP champagne preview hour where ticket holders can beat the crowds and bag any bargains.  This particular sale focused on frocks but there were also plenty of shoes, bags and sparkly jewels.
Did I buy?  A pair of studded Yves Saint Laurent pumps stole my heart for a second.  But – in a Cinderella moment – I realised that they were not my size.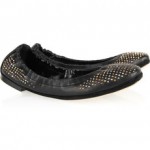 One day in the not too distant future, Buy My Wardrobe will be a glamorous online marketplace where you will be able to buy previously-loved designer clothes at a fraction of their initial price.
Visit www.buymywardrobe.com for details of the next sale.  I have 20 VIP tickets to give to my readers – the first 20 to email me.
Wednesday morning
One of my sisters in law has squeezed out three babies before I could say Jack Robinson.  I remember that feeling of living solely in pregnancy attire and having a suddenly realisation that fashion had changed three fold since my tummy had swelled and re-swelled in close succession.  Entirely out of necessity, we headed down to 20th Century Theatre, 291 Westbourne Grove directly after the school gates had opened for the Temperley London sample sale. Alice Temperley is, of course, the designer of choice for A-listers and Royals alike in search of that special gown or premiere wow-dress.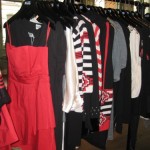 Racks of jackets, tops, dresses (long and short), trousers, shirts and then belts with very few bags on a centre table focused our attention for some intense fashion scouting.  The adjoining room catered as a large communal changing area.  Many shoppers were going solo and I immediately noticed a sisterly-love atmosphere as advice and clothing were offered in equal measure to complete West London strangers.
Did we buy?  Sister in law bought a bang-on-trend grey leather semi studded gilet and a girlie playsuit for hot summer days.
Friday morning
Who says Twitter is useless?  I certainly don't think so.  Tweeting that I was on the look out for a local stockist of my new favourite brand of T-shirt, Velvet, I was answered by @FrecklesSun, clearly the girl-in-the-know.  Stepping down from the Twittersphere, she introduced me to Michelle who runs a sales shop (anything from dresses to bags to cashmere jumpers, t-shirts and her own jewellery) from her home in NW6.
Did we buy? Flanked by two Gates Mates and Mini-Me, we kitted ourselves out in Summer tees at ridiculously good prices.
To find out when Michelle's next sale is on or to join her mailing list, call 07985985676 and mention LifeOfYablon.