There is something a little obsessive about my personality, I have to admit.  But it's probably most evident in my work-life balance.  Stats, trends and anything to do with online engagement simply send me to heaven and back.  And watching them in real time is just plain addictive.  So if you think you are reading my blog anonymously and that I honestly don't know your sex, tablet size or blog-post read speed is, you're very wrong.  I know it all.  And as my readership is growing and growing (honestly at a rate of knots – I can't thank you ALL enough*), I'm totally fascinated by each and every one of you.
My latest (delightful) revelation is that I have an influx of Americans.  So, please all say 'hey!' to my Yank readers.  Most are based in the US (who can blame them) but a number of them live here in London and I like to think I'm shedding a little light on this fabulous city they are currently residing in.  In fact, I spent last Friday with two of these fabulous girls (doing what the Americans do best) spoiling ourselves.  More accurately, we were baby-showering our dear friend in the most indulgent way possible.  No neutral coloured babygrows nor dummy exchanging for us.  Instead, we met at Agua on the first floor of the Sanderson hotel and – to ensure that our Special Pregnant was perfectly pampered – we joined her in the white calm… and pampered too.
I chose the Natura Bissé Age-Defying Facial, which only launched (exclusively) at Agua two weeks ago.  I had read that it uses active ingredients to repair any skin which is… clearly aging.  Key amino acids and a fist full of A, E and Vitamin C work hard to turn back the clock on any wrinkles lying in their wake.
My therapist Matt was a winner.  He's been at Agua for 8 years and what he didn't know about reactivating healthy cells didn't feel worth knowing.  The 80 minutes past by in a flash and – although it DID feel a little curious and stingy – the glycolic acid bit was the most exciting.  I emerged with a glowing, firmer face and padded down the stairs in my toweling robe extremely relaxed.
Agua At Sanderson 50 Berners St. W1.   Natura Bissé Age-Defying Facial  80 mins £110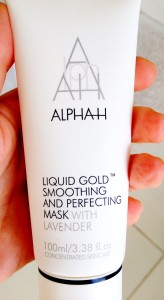 For those who hates spas (or who honestly don't have the time/inclination/££$$) – try this glycolic acid mask by Alpha H at home.  IT'S AMAZING!
* There's always a possibility He might force me to get some REAL work if this blog doesn't turn into something lucrative!