In case you haven't heard …the latest in the world of Lego is that the iconic childhood brand is keen to enter into the lives of our little girls.  I say 'enter' when I really mean 'add to' as my Mini Me has always been the hugest fan of Lego.
So, all the way from Heartlake City, let me introduce you to the new girls in town: Emma, Olivia, Mia, Andrea and Stephanie.  And, this is the interesting bit, in a move away from the unhealthy junior obsession with fashion and beauty, each of the girlfriends has her own hobby.  Although don't get too aspirational-Oxbridge as the hobby sets do revolve around beauty salons, splash pools and a pet parlour.
Unaware of any gender stereotyping, Mini-me and her buddies raced in from school today to build and play.  And, while their imaginary worlds kicked into overdrive, I probed them to find out what makes these slightly more shapely Lego figures a hit….
It turns out that the fun is the colourful mix of colour, ideas and the fabulously plastic glamour of it all. Personally, I'd much rather a Lego Friend in the house than a body perfect Barbie.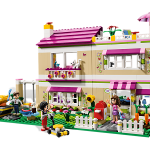 COMPETITION PRIZE:  LEGO has very kindly given LifeofYablon 2 sets of Olivia's House (left) worth £70.  If your little lady is keen, drop me an email (emmaparlons@googlemail.com) with your name and address before 1st July 2012.
This coming weekend, Sat 23rd/Sun 24th June, the LEGO Friends 2012 Roadshow is coming to Trafalgar Square.  Visit www.LEGOFriends.com for more info.
follow @yablon to find out the winners of this competition…