On the school run this morning, as I finished firing times tables like bullets into the back seat of the car, the Smalls meekly asked me what I was up to today.  They like to be kept up to speed with what I'm writing about and often broadcast my schedule to their friends and teachers curiously expecting some sort of enthusiastic applause.  (Clearly they have some inaccurate image of me as editor of The Times or something equally influential…)
I explained that I was going to learn how to create a hand tied bouquet.  The flower lover in Mini immediately developed a 'terrible tummy ache' and ordered that I took her along too.  'Not a chance!' I cried, and promptly raced off to Harrods where Moyses Stevens has just opened their concession within the world famous food hall.
I am ashamed to admit I have absolutely NO IDEA what to do with flowers.  Clearly the flower arranging courses (as well as the deportment and needlepoint classes) slipped through the net between my boarding school days ending and the Manchester student life beginning.  So, whenever I am stuck with a whole load of thorns, foliage and some sweet smelling flowers, I speed dial Lady Y who can make even daisies look glamorous.
I chose Moyses Stevens to help me out here for 3 simple reasons.
The florist has been a floral master since as early as 1876.
Known for their creativity, the company even first introduced the hand held bouquet.
If they are good enough for the late Queen Mother and HRH Prince Charles (both have awarded Royal Warrants) then they are good enough for me.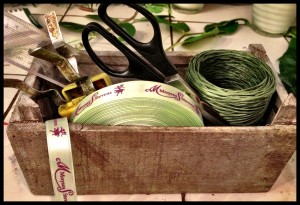 Met by the florist, Jodie, I was asked to pick out the flowers I would like to use for my bouquet.  The amnesia roses with their soft vintage look immediately appealed to me.  So then, adding some white lilacs and gilder roses along with some soft foliage, my perfect bunch was coming together.
We were then ready to start.  Jodie showed me how to begin the bouquet, turning the bunch (held loosely in my hands) as I added each stem facing out.  This way, it would be easier both to add in additional stems as well as arrange in a vase once I got them home.
Of course, it is flower day coming up and we all expect nothing and everything.  They (the Hims) can't win.  We don't want bad flowers nor over-priced ones AND would be even more furious with no flowers at all.
So here is my plan: send your Him to Moyses Stevens in Harrods, he should ask for Jodie and she has promised me she will advise accordingly!
COMPETITION:  Meanwhile, here is a chance to win your own beyond-beautiful flowers (worth £100) from Moyses Stevens!  To enter this competition all you have to do is sign up to my blog (top right of homepage),  follow me on Twitter and RT the picture of this incredibly bouquet prize (above) on Tuesday 19th Feb.  The lucky winner will be selected randomly on Wednesday 20th Feb 2013. 
My bunch of flowers would have cost £35.
If you would like to know more about Moyses Stevens' flower arranging courses, call their Temple Fortune shop on 020 87720094.