I'm going to sound spoilt whichever way I write this.  If I'm honest, it was just another invitation somewhere lovely to eat something delicious.  I didn't read the invitation closely enough and – for some odd reason – thought I was going somewhere else.  But it must happen a lot as Gaucho Afternoon Tea could easily have sounded like tea at the Groucho Club.
Except it wasn't .   But – perhaps because I had no preconceptions – it was actually not in the least bit disappointing.
Gaucho is, of course, the steak place.  Where MEN go to eat slabs of MEAT.  For a chain though, it's ridiculously unbranded and VERY dark.  The floors, ceilings, walls and even toilets are all painted black and dimly lit.  So I suppose this helps to make you feel like you're somewhere a bit … different.
Anyway, I found myself visiting the Piccadilly branch to review their recently launched Argentine-inspired afternoon tea.  My tea guest was perfect.  She's a party girl.  A real life person who lives to party and dance and – although I didn't know her then – she grew up on manning the coolest club doors in this town.  So I set her to work – asking her to judge if this Isreali-owned chain staffed by an international bunch of fashionistas is cool or a little desperate?
Inside we found rather male yet plush interiors, some seriously pumping house music, animal skin walls and a beautifully laid table.
Of course, we ate it ALL – like good girls.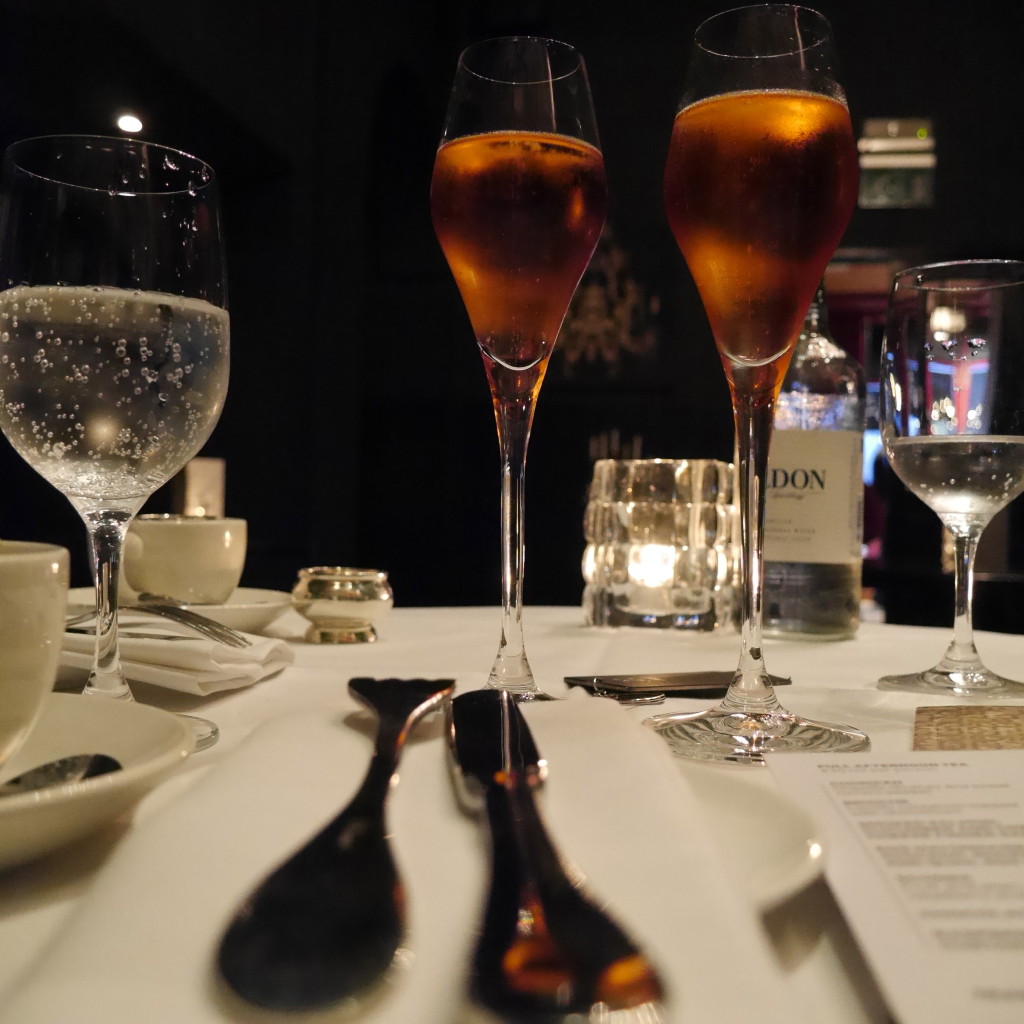 And drank (both teas and pink champagne).
The service was ridiculously attentive.  Food on cake stands kept rolling out of the kitchen.
Just when we thought we had run the course, out came more. And more.
The only disappointment was the scone.  It was simply a bit dry, as if it had been re-heated before its exit.  Not a bad score really when you consider how much food we had reviewed….
We left feeling fat and happy.  And  a little high on all the sugar. In summary, high tea at Gaucho is a lot more fun than The Ritz.  Party girl suggested that it was a bit like 'a spiked afternoon tea.  She thought that the team at Gaucho had taken something a little too formulaic and (dare I say) chintzy and made it … a bit cool.'
Gaucho's Afternoon Tea with a glass of Veuve Clicquot Rose costs £45 per person