I first walked past one of the two Nordic Bakeries on Golden Square and, although running late, was lured in by the mystically divine smell of their signature Finnish cinnamon bun.  How could such a calm, elegant café selling fresh traditional Scandinavian fare have escaped my radar?  Without doubt, this was to be my next 'fabulous find'.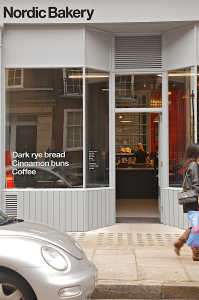 There is a huge appeal in all things Nordic.  For a start, the Scandinavian way of life looks a great deal less hectic than ours but also these Northern Europeans have a distinct sense of style using simple, elegant lines.  Designed by iconic Nordic gurus such as Kaj Franck and Alvar Aalto, the furniture and tableware at Nordic Bakery, ensure that the experience is a legitimate as well as harmonic one.
In my calculated way, I managed to schedule a meeting with a scarf-queen (my next 'fabulous find' – look out for a forthcoming blog post!) at the Marylebone branch and then, not having had enough, persuaded Kooky and Locket (in town running errands) to join me for a spot of lunch.  Kooky couldn't choose between heavy-smoked salmon with dill on rye and the sliced boiled egg with pickled mustard herring, also on rye.  Locket is still emailing about how much she adored the delicious egg and herring and I have realised that my love of cinnamon is greater than I ever imagined.  Baked on site, there is a host of buns, cakes and cookies to try to avoid.
I hear that the owners of Nordic Bakery are passionate about dark rye, cinnamon buns and coffee.  It seems that it is contagious; I am now too.
Nordic Bakery Marylebone, 37b NewCavendish Street, W1      www.nordicbakery.com