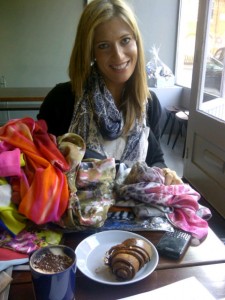 Raise your hand if you thought that a scarf was an item of clothing worn to keep your neck warm.  Ok put it down.  Now raise your hand if you knew that a lighter scarf can be worn in summer with a vest top.  The divine Katie Lightfoot, founder of new label, Mercy Delta, knows everything we should ever need to know about a long yet versatile piece of luxurious fabric with prints to make you squeal with delight.  Already stocked in Harvey Nichols, Selfridges, Matches and Trilogy (and more), I met Katie to hear how she has managed to achieve so much, in a possibly saturated market, in such a short period of time.
The answer is quite simple.  Katie is an established fashion agent for a number of ultra cool brands and instead of knocking on trendy doors with a bag full of wares; she was pestered, and then urged, by a Harvey Nichols buyer to bring out her own range of scarves.  Her iconic look has always been the big sunglasses and the even bigger scarf.  Now she simply sells what she wears.
I oo-ed and aah-ed over the diverse range of finest cashmere (or super-soft modal) scarves, stoles and wraps, which were all as utterly gorgeous as the next.  Her prints are as inspiring as the colours are sensational.  What luck for my girlfriend turning 40th the following day; the only problem was which one to choose….
Aged 29, there is no mistaking Katie's entrepreneur success.  It would be so much easier to like her though if she was awful coffee-company and not so attractive.