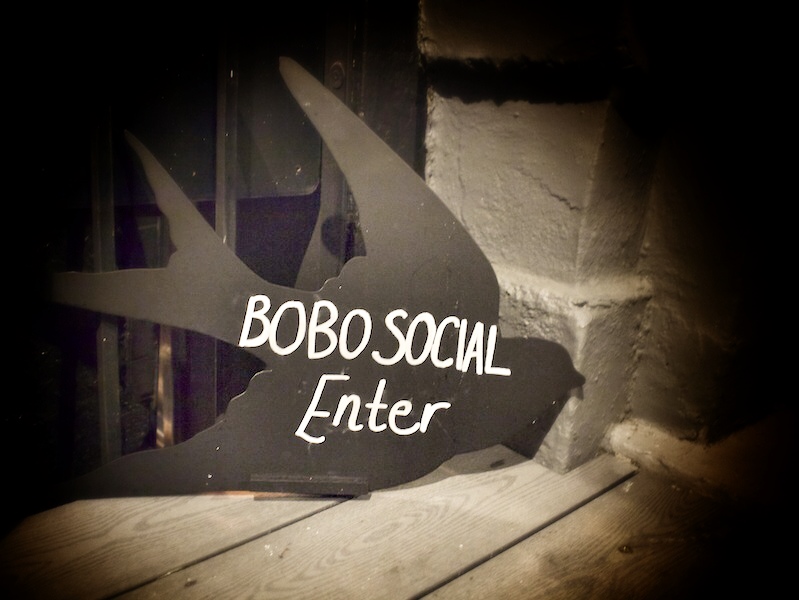 It seems we just can't get enough of these new-age high-end burgers. The latest opened up on the advertising foodie trail (aka Charlotte Street) a couple of months ago and after Grace (Dent) and Fay (Maschler) had both given it such an over-sized thumbs up, I sniffed along (with some burger buddies) to try my bite…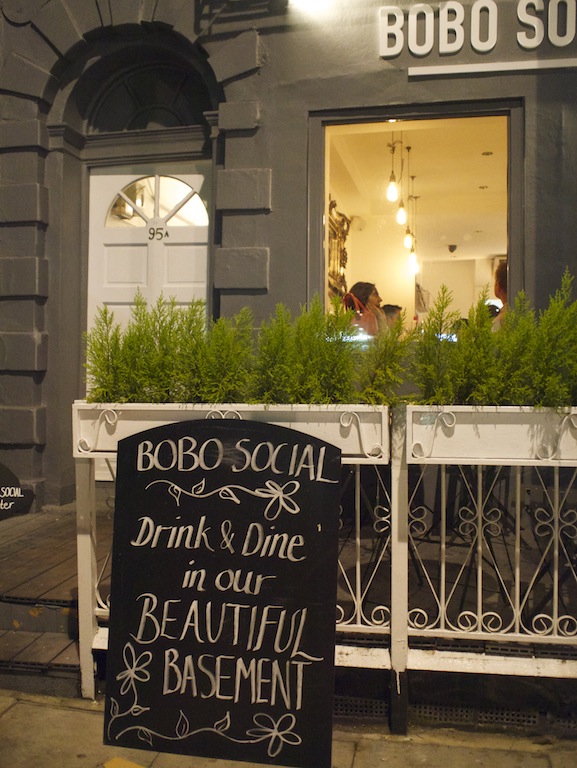 Boho Social is the first solo project from Mike Benson and Jacinta Maddison. Benson comes from a Sticky Fingers and Supperclub background while Maddison is post advertising/marketing career.   They're friends but not 'together' – I was nosey enough to enquire.
And 'tis true the burgers are really good, but (big warning here – I'm now officially OLD at 43), so I did find the restaurant a smidgen noisy and most definitely 'young'. So I wouldn't necessarily rush back there on a Saturday night (unless of course I didn't  want to talk to my fellow diners).
Here is my interview with duo behind the joint:
How long has Bobo Social been cooking?  Mike and I have been discussing various ideas for about 2 years and settled on the concept of Bobo Social about 18 months ago when we decided Charlotte Street would be the perfect location for us.
Isn't a burger always going to be viewed as fast food?  Part of the reason we set up Bobo Social was to expel this old way of thinking about the burger. So many incredible restaurants feature a burger somewhere on their menu now, and what we are doing here is to really go all out on making the burger part of an enjoyable and relaxing 3 course meal!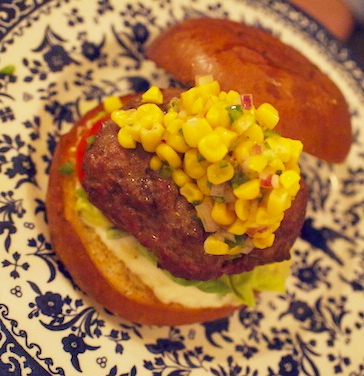 What has surprised you about running your new business?  The amount of hard work you are able to put into something that you are passionate about and how little sleep you can survive on!
Where do you (both) love to eat?  I really love Dim Sum and Sushi, so I love places like Ping Pong and Tsunami. Mike loves a good steak, so Gaucho and Hawksmoor are winners there!
Describe the London restaurant scene. Vibrant, forward-thinking, rule-breaking and constantly changing.
Why are your burgers better than others? Our indoor charcoal oven really adds a huge amount to why our burgers taste the way they do, plus our rare-breed beef and fresh, local ingredients are key.
Are you more shabby or more chic?  I think it's a real mixture, which is why it works. We don't want any pretentious here but we also love the finer things in life, so it's getting the balance of that.
How do you unwind after a hot kitchen? A nice glass of red usually helps!
What can we expect next from you (as a team)?  We hope to open a few more Bobo Social's in the next few years, so keep your eyes peeled!

So there you have it… oh and if anyone else (like me) wasn't sure, bobo means bourgeois bohemian – making these burgers specifically designed for the free-spirited posh… who also like it loud.
Bobo Social 95 Charlotte Street, London, W1