Look away now if you're not in the least bit interested in my anatomy.  And don't feel badly about that either.  Some would call this post over-sharing but others do seem to find my BRCA journey of particular interest.  Today's tale is one of 2 years with less than 2 breasts.  And the point to my tale is that what may seem like a massive physical disaster for a shopping/fashion/going-out loving girl, quite simply wasn't.  I hope this post will give others in a similar position some positive reading material, if not more.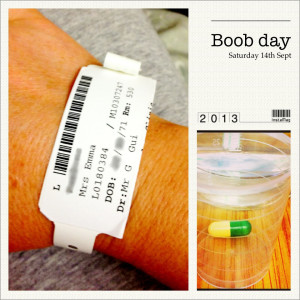 A bit of background first.  16 months after my pre-emptive double mastectomy I noticed that all was not well with my right implant.  He was at his annual boys knees-up at Cheltenham Races and so I immediately offloaded the Smalls with Lady Y and dropped in on my surgeon, Mr Gui.  He looked concerned as he peered at my red patch of skin and feared (quite rightly) that I was HIGHLY unusually rejecting the implant at this late stage. (Implants are much more likely to reject in the first few days following reconstruction and I was a one-in-a-thousand case…)
The bottom line was that the implant needed to come out asap.  And, without going into too much detail, it was unclear at that stage if I would ever be able to have reconstruction on that side again.  As you can imagine, I was NOT best pleased. I had made my brave decision and NEVER FOR ONE MOMENT HAVE I REGRETTED IT – however it felt terribly unfair that here I was faced with a, perhaps permanent, breast imbalance.
A few months later I had my first fat transfer from my thighs and tummy (and no! it doesn't render you slim!) into where I had had a right breast.  And if that wasn't painful enough, I then had a further transfer a few months later.  This was crucial as the new implant couldn't go straight back into the cavity which had been emptied of all BRCA breast tissue in the first operation.
By this point I had 1 and a half boobs.  Enough to wear a bikini.  Just.  Enough to feel better and it was at this point that I started to enjoy the rather unique challenge of finding day and evening tops which concealed my lack of symmetry.   Hardly anyone outside my inner circle was aware of my secret.  He didn't seem to mind either. Combined with having my ovaries removed earlier that year, I had had enough of hospitals, surgery and pain.  And so, because I didn't feel as devastated as I had initially about my lack of bust, I took 2 years off.
Until recently, when the idea of fixing myself popped back into my head at a routine check up with Mr Gui.  I realised that, aged 41, I had too many fashion years ahead of me to stay as I was.  I might run out of dress options.   And so the surgery together with the family support team were booked.
So today I write this with 2 boobs and I can't tell you how elated I feel.  But I have been cautioned to rest well for at least 10 days for the best chance of keeping this implant.  However, my previous implant misfortune doesn't give me any worse odds of hanging onto this one.  So, my readers, there will be less restaurant/bar/party reviews over the next days but instead I have a stack of film/book/beauty reviews that can all be completed from the calm of my home.
One final word on the issue of the silicone breast implant.  While they have shown me their less than perfect side, they are still a great option for anyone looking for breast reconstruction.  But do bear in mind that they are a never-complete project.  Around 60% make it to the 10 year mark but a fair few need replacing after only 5 years.  All this is worth noting if you are one of those people toying with the idea of breast improvement purely for vanity reasons…