Rarely am I plucked out of the trough of Twitter and invited to someone's home for dinner.  But then rarely do I network.  At least not consciously network and – besides – there was the temptation of a being fed… at a chef's table, no less.
So, I agreed…based on the fact that the dinner date was a month away and located only a few streets away from where I live.  And – additionally – I DO love the curious feeling of being incognito for the evening.
Supper clubs, pop-up immersive dining experiences and at-home-with-a-stranger are His idea of a nightmare.   Recently, I forced him to accompany friends to a Secret Supper Club near Arsenal football ground.  Ethiopian food was served (without any crockery nor cutlery) in a house full of cats.  I honestly thought he might KILL me on the way home.
Anyhow, last night was a great deal more civilised.  Five women fed themselves with proper cutlery as we discussed work, marriage and culinary delights over Saima's delicious Syrian sharing food.
Her story is a great one. Slaving away in Global Risk Management for an American conglomerate, the founder of Hampstead Kitchen gave up the big salary day job to follow her foodie heart.  And now she enjoys every moment of her new life…conjuring up elaborate banquets for her varied clients and spends hours over a hot stove before plating up feast upon feast.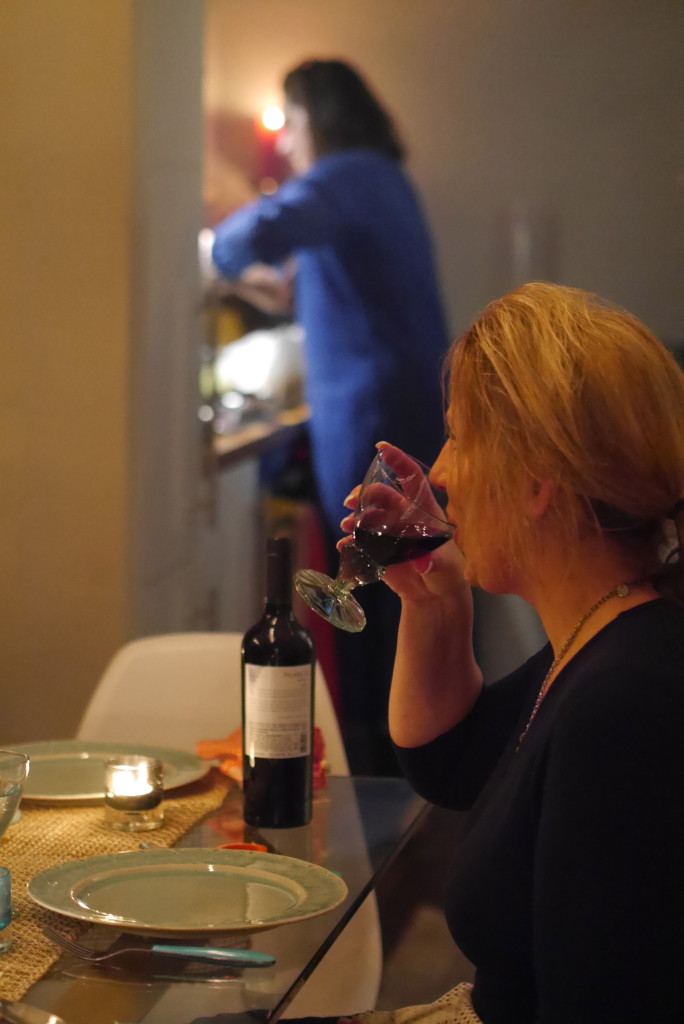 For those curious as to who I ate with: around Saima's chef table we had a journalist from the Wall St Journal who doubles up as a food blogger, a retail marketing author, a founder of a lifestyle concierge company and a florist.  Oh and me: the annoying one with the camera.
Saima is ALL about the dining treat: entertaining her guests and of course feeding them the most delicious yet socialable food experience.  Opening up her home to feed others is clearly her joy.  Half Persian and half Pakistani, it's no surprise that her food is lavish yet ultra communal with colour (of the food and the serving dishes) playing a huge part in the eating ceremony.
Whether you are looking to host (but not cook!) an intimate dinner for family & friends or a formal corporate party to impress your work colleagues, call Saima 07540 764 359 (or email) Hampstead Kitchen and she'll organise the rest…