Not only is it unusually sunny in the Austrian alps at the moment, I'm also 'battling' chapped lips, helmet head, weary thighs and a tired skin from running around London like a headless chicken last week.
But the lovely PRs responded to my last minute plea to sample the latest and the best – and here is my top 6 in this week's quick-getaway wash bag: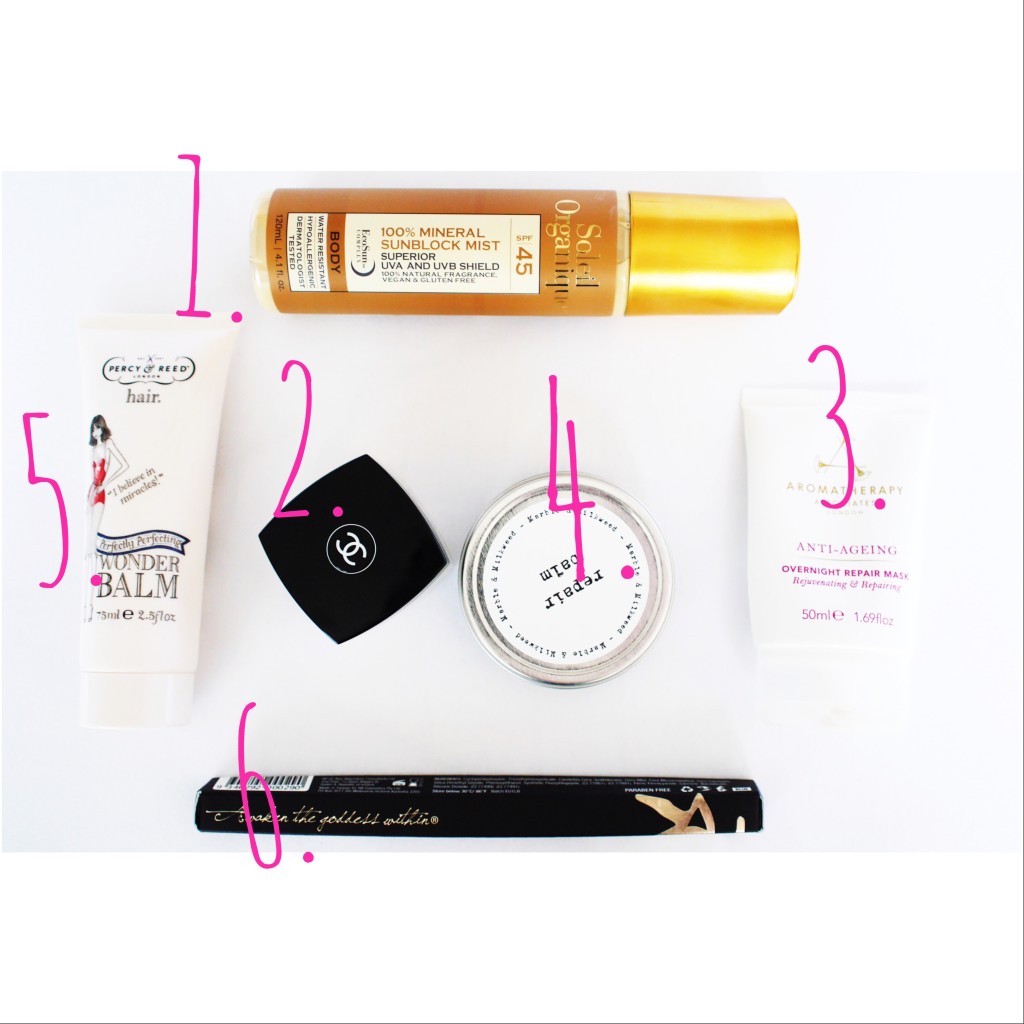 Soleil Organique spf 45
Chanel Hydramax + Active Nutrition lip care
Aromatherapy Associates Anti-Ageing Overnight Repair Mask
Marble & Milkweed repair balm
Percy & Reed Wonder Balm for hair
Eye of Horus lazuli blue goddess pencil
And the reasons I am loving them?
Well, Soleil Organique (if it hasn't reached your e-shopping wish list yet) is quite simply what the beauty industry has been waiting for – high performance organic sun care that works brilliantly! Perfect for the slopes as it's water resistant and a spray so is easy to apply in your all-of-five-minutes after breakfast before that first lift up.
This Chanel pot of lushious lip care is matt so nourishes without that awful over-glossing.
The team at Aromatherapy Associates has surpassed themselves this time.  You all know I'm a major fan but this overnight mask soaks in completely allowing you to sleep sticky-free.  I apply it over Indie Lee's friggin amazing squalane oil.
I know I'm not allowed to mention the ultra cool packaging as my reason for loving this Marble & Milkweed product.  So instead I'll wax lyrical about the organic fair-trade shea butter, the tamanu healing oil and Bulgarian rose absolute and organic rose otto and how it  luxuriously soothes my bruised ski shins.  Oh and I DO love the packaging.
OK so I've lied about one of these products as I was using it well before we left for holiday.  Percy & Reed's miracle Wonder Balm is news though and I need to share.  It's weightless, adds moisture, shine, smoothness and definition to any barnet and leaves your hair frizz-free and perfectly primed for the rest of  your styling favs. Wonder-ful – therefore aptly-named.
Piercing blue to match our stunning mountain sky, the Eye of Horus lazuli blue goddess pencil is a winner for anyone  (like me) giving any other make-up a total miss while on piste.  The pencil glides on and from there is waterproof, smudge-proof and long wearing.