Dim Sum reminds me of my childhood.  Lord Y would often treat us to a slap-up meal on Sundays at lunchtime.  His preferred restaurant for Dim Sum (he is, after all, a Chinese food connoisseur) was called Lee Ho Fook.  I'm not kidding.  My brother and I would howl with laughter at the mere mention of this eating establishment.  Shortly after arriving, box after box of sweet steamed parcels (some were fried but they weren't my favourites) would arrive at our table until there was literally no room for a water jug.  At this point, Lady Y would scold her over-ordering husband.  But, as we are a family of BIG appetites, there would be very little left at the bill-paying moment.
I was offered a Dim Sum review lunch at Royal China and immediately thought of my Japanese PR friend.  Not only is she currently eating for two, but she also knows more than most about oriental cuisine.  Besides, we were 'owed' a download of life so I decided to trap her with an offer she couldn't and wouldn't refuse.
I had presumed that Royal China would be at least half empty at lunchtime on a Friday.  I presumed wrong.  Almost every single table in this enormous restaurant was taken and, always a good indication, the clientele were overwhelmingly Chinese.
We didn't order but encouraged the head waiter to make choices on our behalf.  The food tasted ridiculously fresh and light.  Top of our list were the spring rolls with Worcester sauce (cunningly adaptation) and the Prawn Cheung Fun (which it was) but, to be honest, none of the plates presented were duds.  We sipped our Chinese tea and giggled our way through enough Dim Sum to feed an army.
Desert was a rush.  I had minutes to jump on a bus in order to make the school gates in time, so was forced to leave woman-carrying-baby to continue her mowing alone.  She accurately reported (to me on the bus) that the sweet lotus buns were 'bouncy and full of warm, figgy paste' and that the fresh mango tapioca pearl was 'refreshing yet comforting'.  I might just dispatch her to restaurants from now until she is ready to pop as my stand-in-word-lady.
The atmosphere in any Chinese restaurant is always a little staid but the steady flow of hungry visitors at Royal China reminds you that they are clearly one of the best in W1 and, without doubt, not suffering from any sort of Western recession.
Dim Sum from £3.30 (we consumed 10 including dessert!)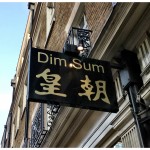 Royal China has 6 restaurants in London and we ate at 24-26 Baker Street  W1U