There was a conscious decision to leave my lap top at home and to not blog my way through our week in Paris.  He and I had decided that the little people were finally of an age they could appreciate all that we adore about this city of culture, food and all things elegant.  And until the final day, I had satisfied my word urge through Twitter.  But then, on the final day, we found ourselves somewhere only the non-price conscious Parisians dare to tread.  Redefining our culture mission, we added the Hermès new-ish flagship emporium to our agenda.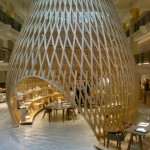 Located in what was once Hotel Lutetia's indoor swimming pool, this is the first Hermès store on the Left Bank.  The swimming pool had been originally built in 1935 and remains the Art Deco feature it was designed to be.  The large vacuous space, in the heart of the Saint-Germain- des-Prés quarter, houses the various Hermès collections in impressive nine-metre high wooden huts. Homeware, wallpaper, carpet, jewellery, leather goods, mens and womenswear and, of course, those iconic silk horsey scarves; the entire Hermès world exists here.
The store also houses a swanky florist, on the right as you enter, and a tea room on the balcony aptly named Le Plongeoir (diving board) tempting you with tea and cake served on Hermès china.
We all adored the creative adaptation and its contents; a must visit for all those on the Paris culture trail but do leave your credit cards at home.
17 Rue de Sevres, St Germain des Pres    www.hermes.com