I do love a good gadget.  It all started for me when I was a second jobber.  Buzzing around a cross-generational drinks party, 23 year old me cheekily happened upon one of Lord Y's contacts.  This contact owned a number of small retail operations and I found myself shameless begging for a job.  And then, I spent two fantastically fun years as the PR and marketing girl at The Leading Edge, THE gadget shop at the time.
Other than still reading Jonathan Margolis' column in the FT's How to Spend It, I am now mostly out of touch with the gadget world.  So I decided to call in some of the more recently launched home gadgets (as opposed to electronic ones – don't get me started on Apple TV!) for review.
Here are the four which most amused and impressed:
1.the lookalike Oreo, Hot Cookie £10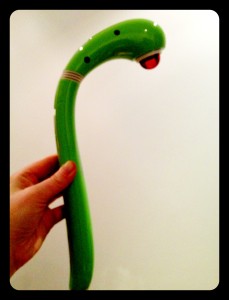 2. the Scholl I-Pop Vibrating Massager £20 to reach over the shoulder
3. the Robot Tea Infuser £3.99
4 the Corn Kerneler  £6.38
While I can't claim that any of the above will honestly change my life, I did enjoy delving back into the gadget world, albeit briefly.
COMPETITION:  Mustard, the online gift retailer, has given me 10 of these Hot Cookies (£10) to keep your drinks warm.  All you have to do is to enter this competition is sign up to my blog (top right of homepage),  follow me on Twitter and RT the picture of the Hot Cookie on 15th March!  The lucky winners will be selected randomly on 16th March 2013.