10 years ago we had virtually no contact with the rest of the world.  Not really.  We couldn't see friends' children blow out their 5 candles nor admire the view from the top of that well-hiked mountain.  With unlimited appeal to look over that garden fence, Facebook has allowed us to see right into people's lives.  (for better or for worse).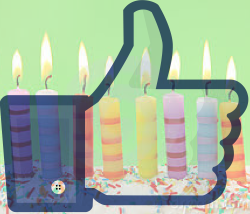 So as Facebook turns 10 today (leaving aside any of the gripes), we have never been better connected.  The social network giant – with now more than 1.2 billion monthly users – allows us to share and over-share to our hearts' content.
To celebrate (with Mark Z) I thought I'd list my top 5 loves of Facebook:
1)   sharing… I love that friends and family far and wide share the minutiae of their lives.  There's no doubt about it:  the Brits have become better sharers.
2)   Wit… those who I wouldn't necessarily have down as stand-up comedians have revealed themselves on this network as truly amusing.
3)   Love … Facebook with its like function truly helps to spread a little love.
4)   Reminders… birthdays have never been so difficult to forget.
5)   Effortless… it takes a matter of minutes to catch up with a few hundred friends (unless you time-waste)
6)   Eyeballs… to the blog. Of course. (for this I am most grateful!)
Of course, there is plenty about the big blue boy that we don't like.  A feeling of being controlled?  Bored of your neighbour's cat photos? But sometimes it seems more fashionable to say that you hate Facebook than admit that you like it.
Happy 10th Birthday, Facebook!