'Why raw? Why take a week out of your life to go RAW?'  I honestly don't mind if you ask.  You see, I'm curious.  Curious enough to allow A Beautiful World to supply me with divine smelling raw beauty products to smother myself in.  And curious enough to allow Raw Fairies to feed me.
The promises are HUGE: 
glow (even mid winter)
energy (we never have enough)
younger-looking skin (everyone's wish)
better tasting food (let's see…)
an improved sex life (no comment)
 The theory behind raw is that the food ingredients (in beauty products and diet alike) haven't been heated above a certain temperature, as it's the cooking which destroys the powerful multi-beneficial enzymes.
A Beautiful World is the site which where ALL the raw superfoods live… in jars. Concentrated sources of bio-identical nutrients, minerals, enzymes and antioxidants – packaged exclusively for the UK by The Body Deli as well as Bee Yummy – for us to exfoliate, moisturize, refresh, illuminate and revamp our bodies.
So, over the next 5 days, I'm fully embracing all things raw.  I'll snap as I go and each day update this blog post with whichever raw potion or juice has collided with my semi-burnt-out body.
Feel free to join in too.  You can buy all the creams and potions here and chat to the fairies here.
Day One: Blueberry Fusion Micro-Scrub / The Body Deli £28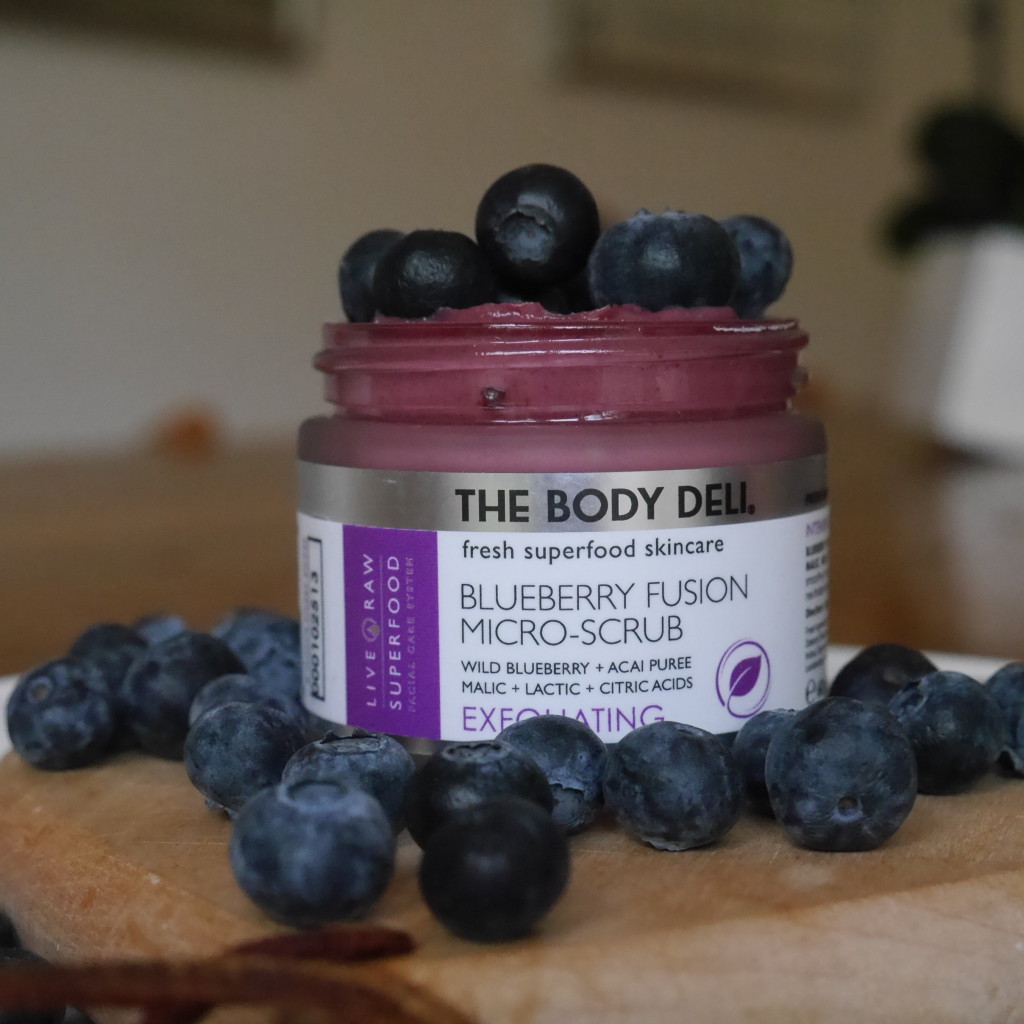 The fresh blueberries feed the skin while the natural fruit acids (whizzed up with natural earth particles) exfoliate.  Just be careful not to lick…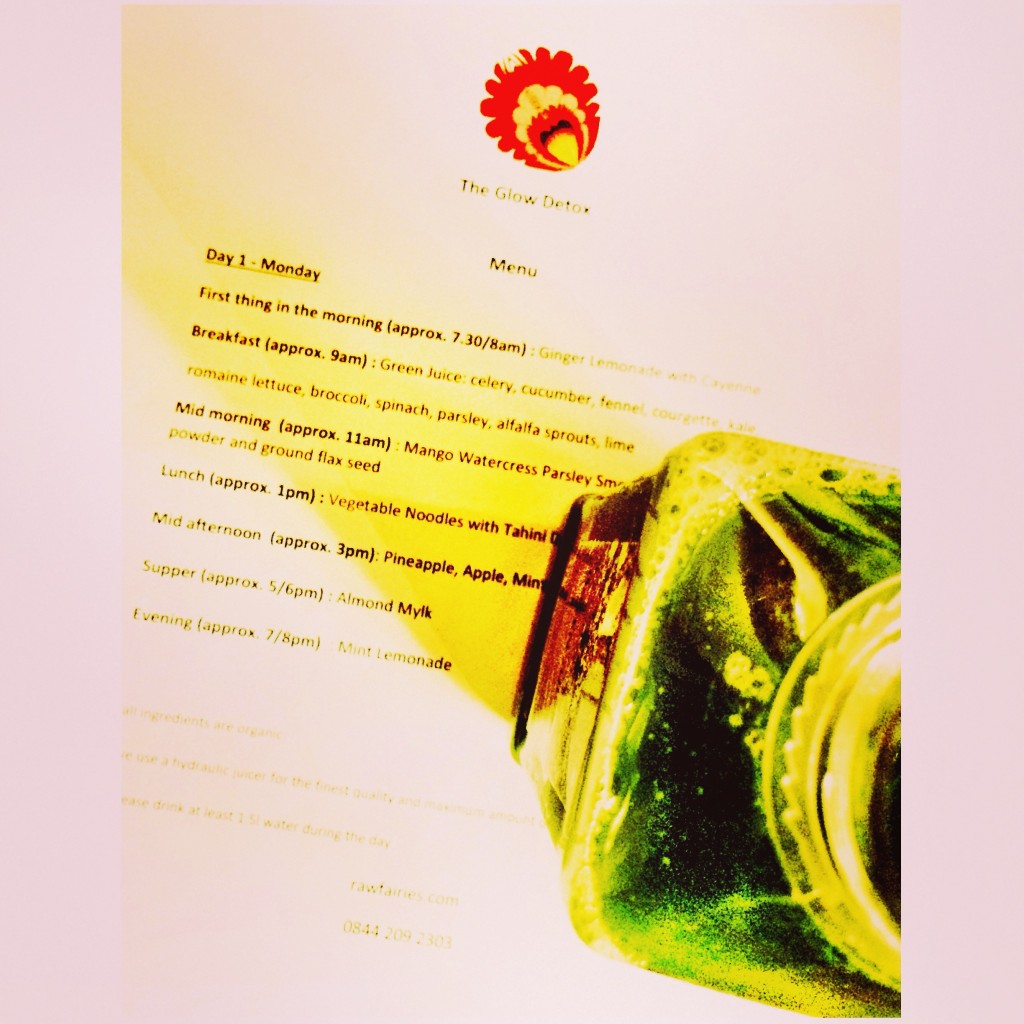 My second (of 6) juice of the day was very green (celery, cucumber, fennel, courgette, kale, romaine lettuce, broccoli, spinach, parsley, alfalfa sprouts, lime). I now feel like a green-eyed monster.
Day Two: Moroccan Mint Cream / The Body Deli £24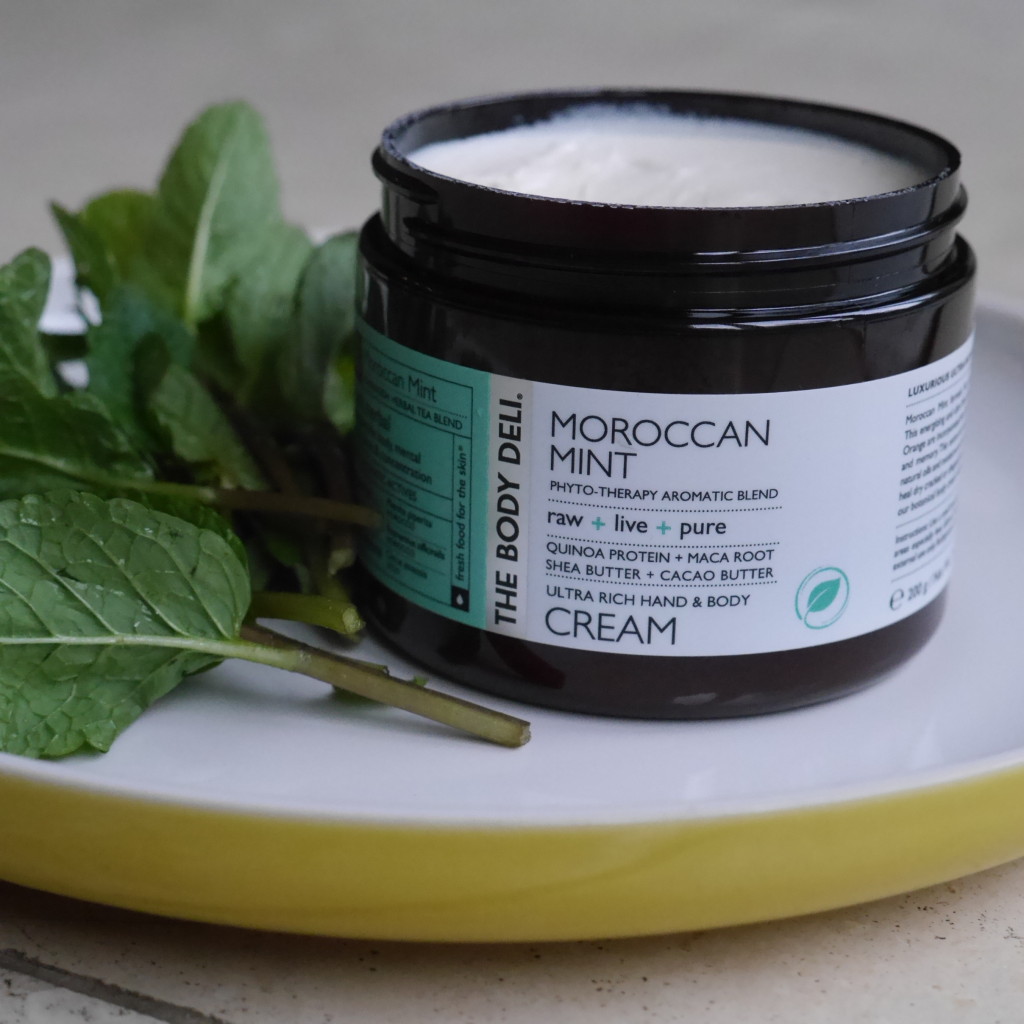 Ok so I must admit, I'm less full of beans today.  Infact, I feel exhausted.  It's 8pm and I've already had my juices and my bath (not together) and have lathered myself in this luxurious body cream. I can almost feel it restoring my essential fatty acids and natural oils.  And the smell of fresh mint is making me feel MUCH happier and a little less hungry.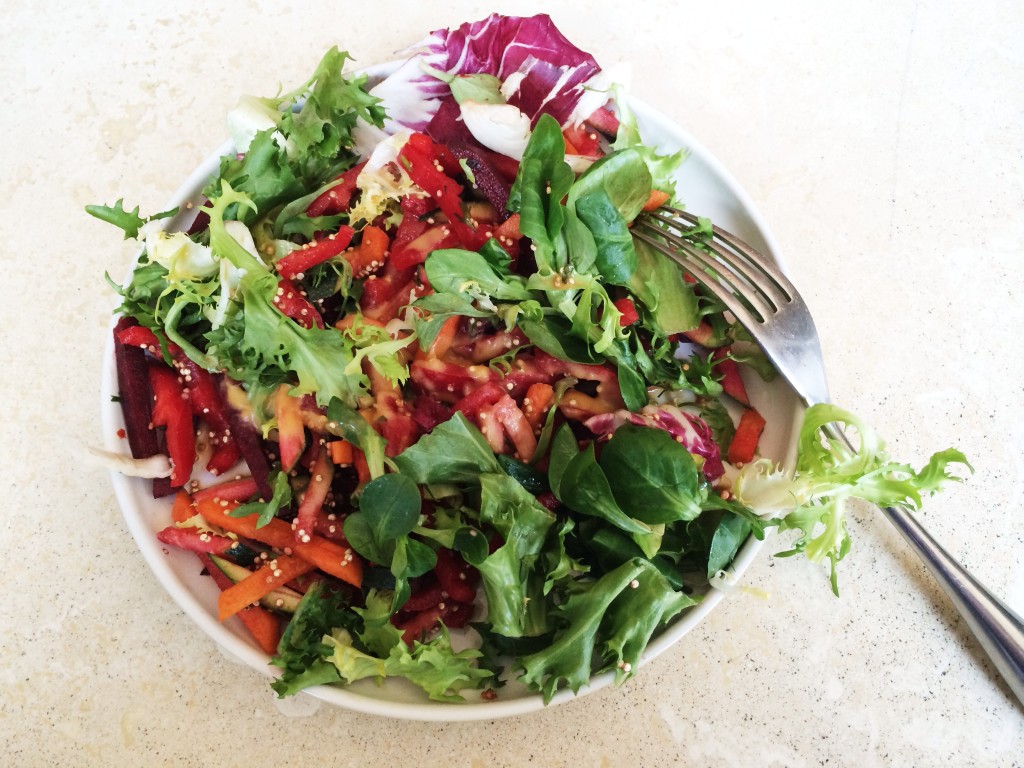 The best bit about Raw Fairies is the salad at lunchtime.  Today's Rainbow Salad with sprouted wild rice and citrus dressing was SO delicious.
Day Three:  Green Detox Scrub /The Body Deli £28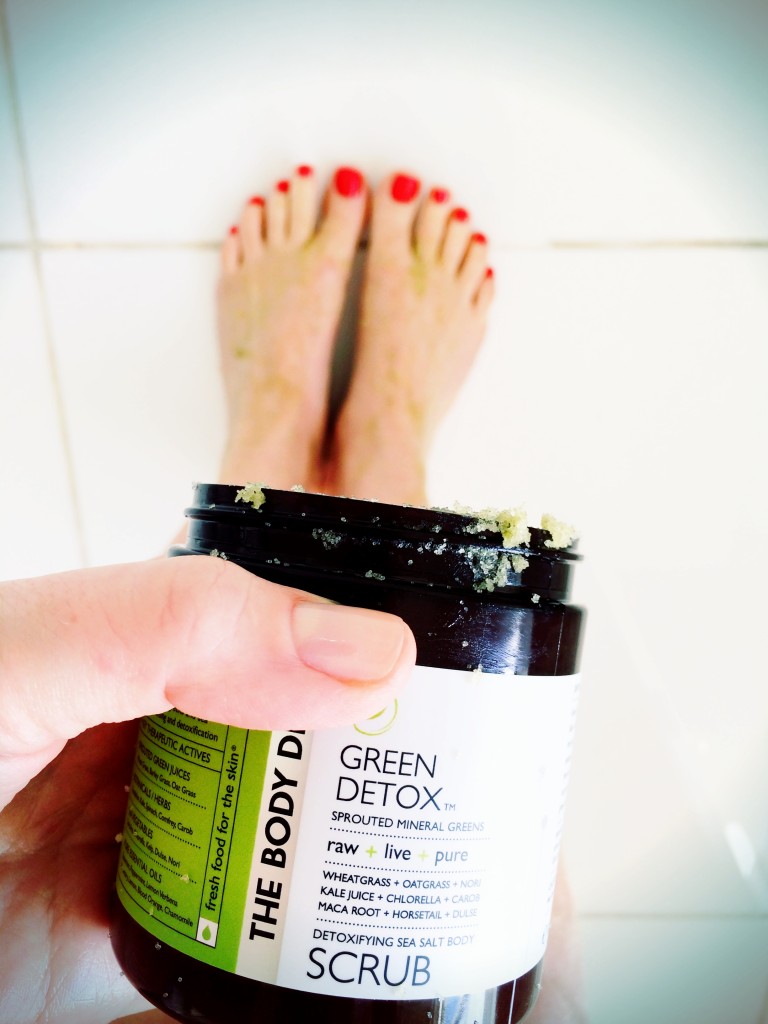 A scrub is something I usually can't be bothered to do.  Let's face it – it's messy, gritty and needs to be applied out of the shower.   But this is worth EVERY grain currently scattered all over on my bathroom floor.  I'm not sure why I'm nauseatingly happy today… but I think this might be why.  Green happiness in a pot.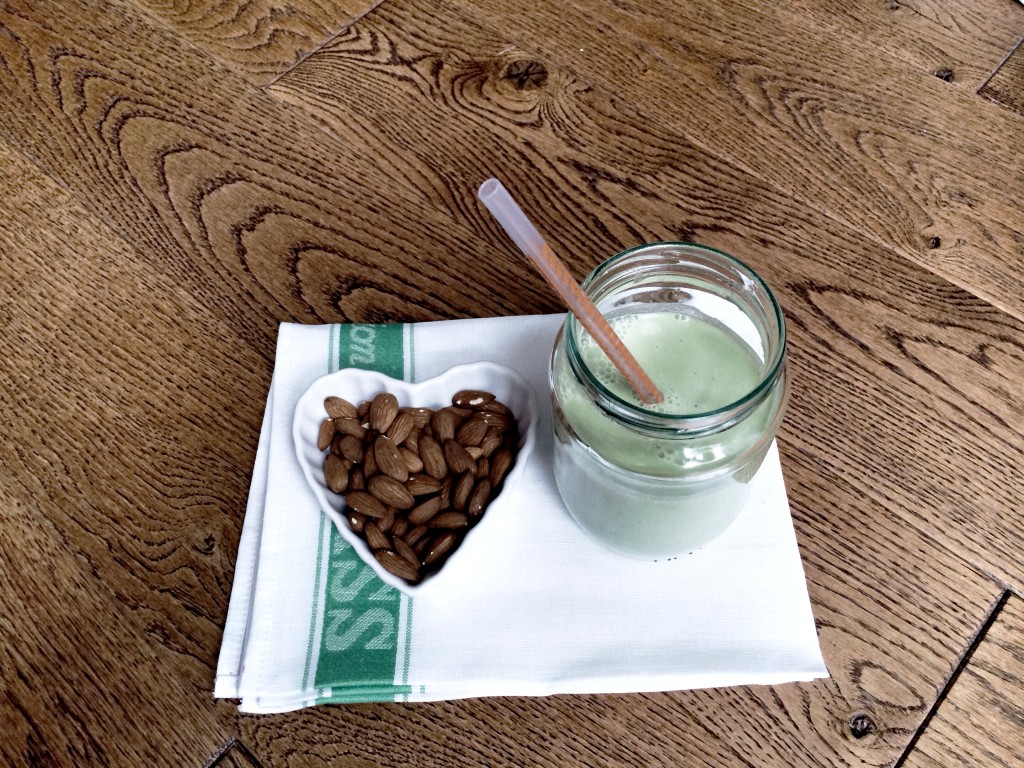 This is my 5pm snack.  Cashew milk.  Isn't it a pretty colour?  Bet you're jealous…
Day Four:  Radiance Enzyme Superfood Peel £38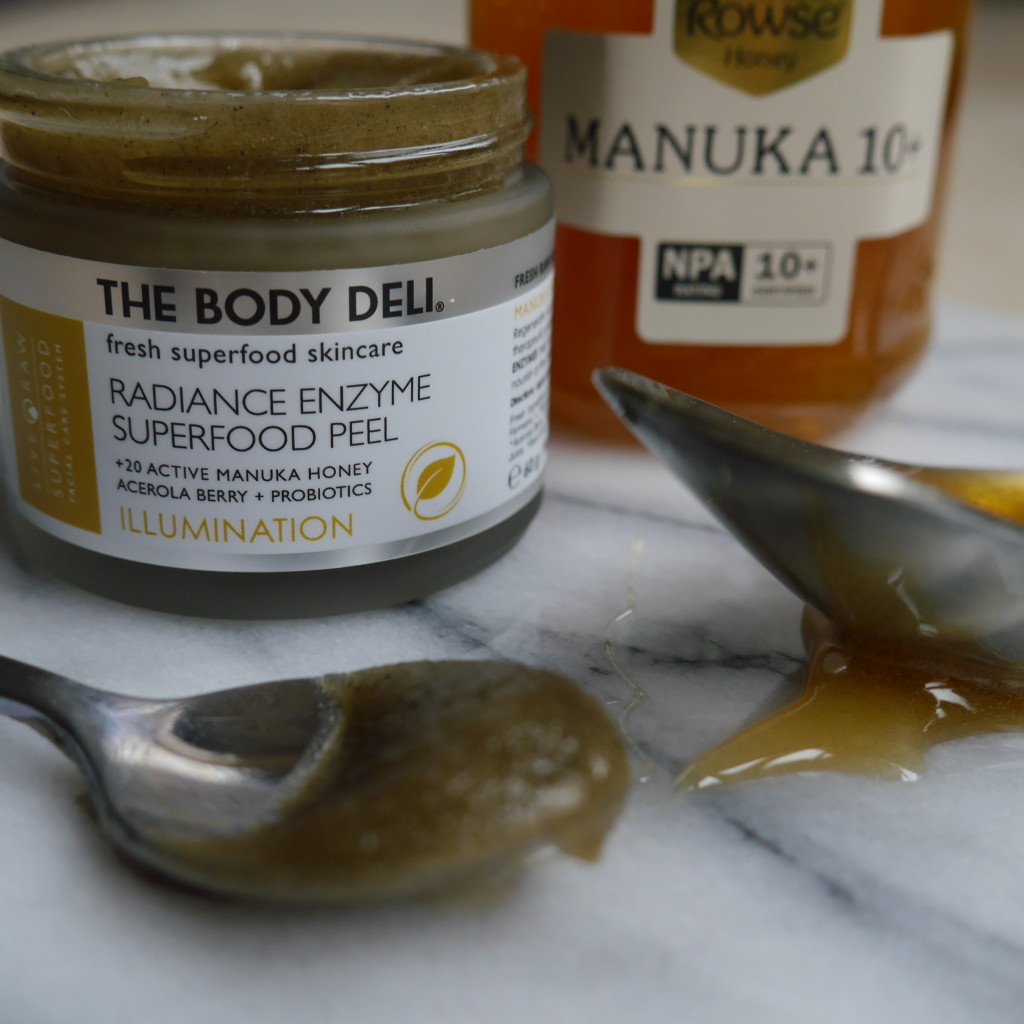 Never a dull moment in this blogging world but many a dull face, I'd say.  And no, I'm not talking about the readers… Our faces are dull because our skin is tired.  So… I've just covered my face in Manuka honey… mixed with acerola berry and a load of probiotics.    This is super super superfood skin treatment which could transform your home into a (temporary) spa and give your skin an illuminated wake-up call.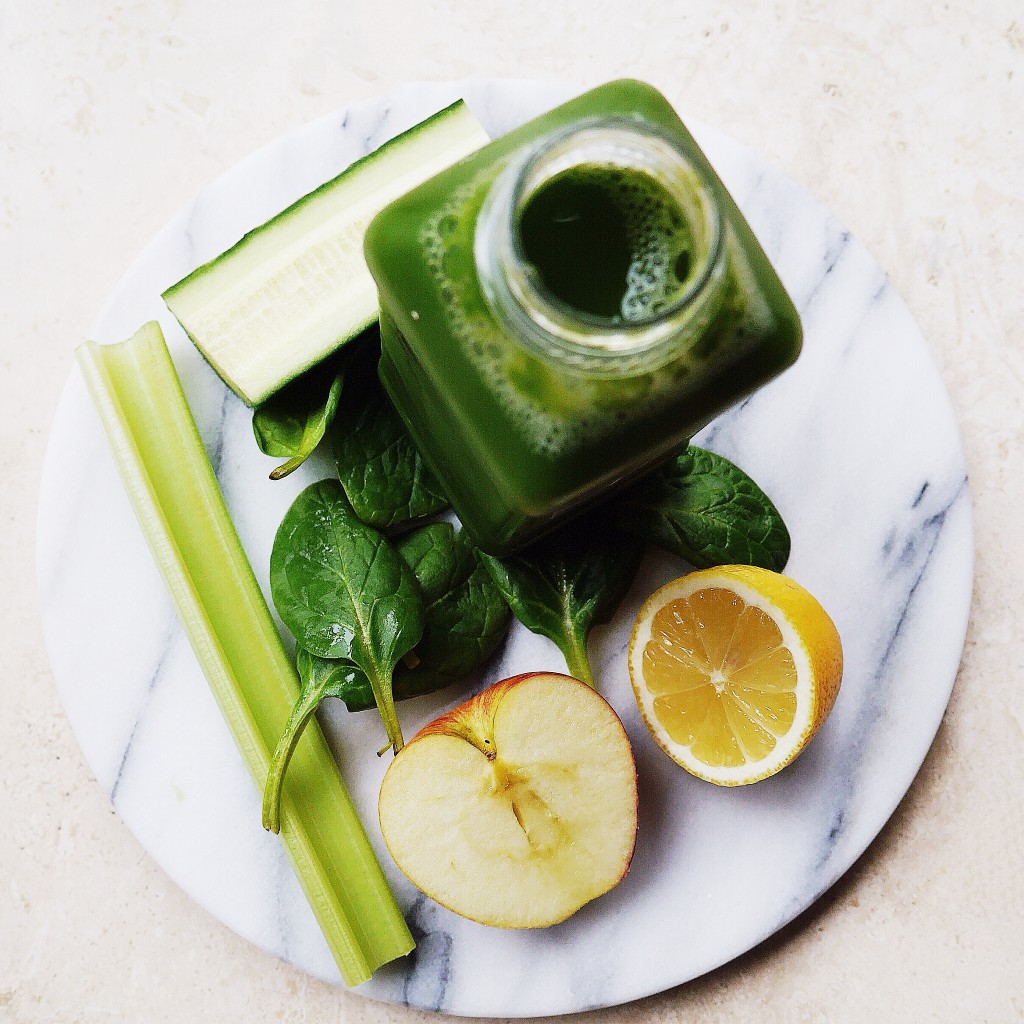 At least I didn't have to assemble this greenie.  On Day 4 that might touch a RAW nerve…
Day Five:  Bee Yummy Skin Food £32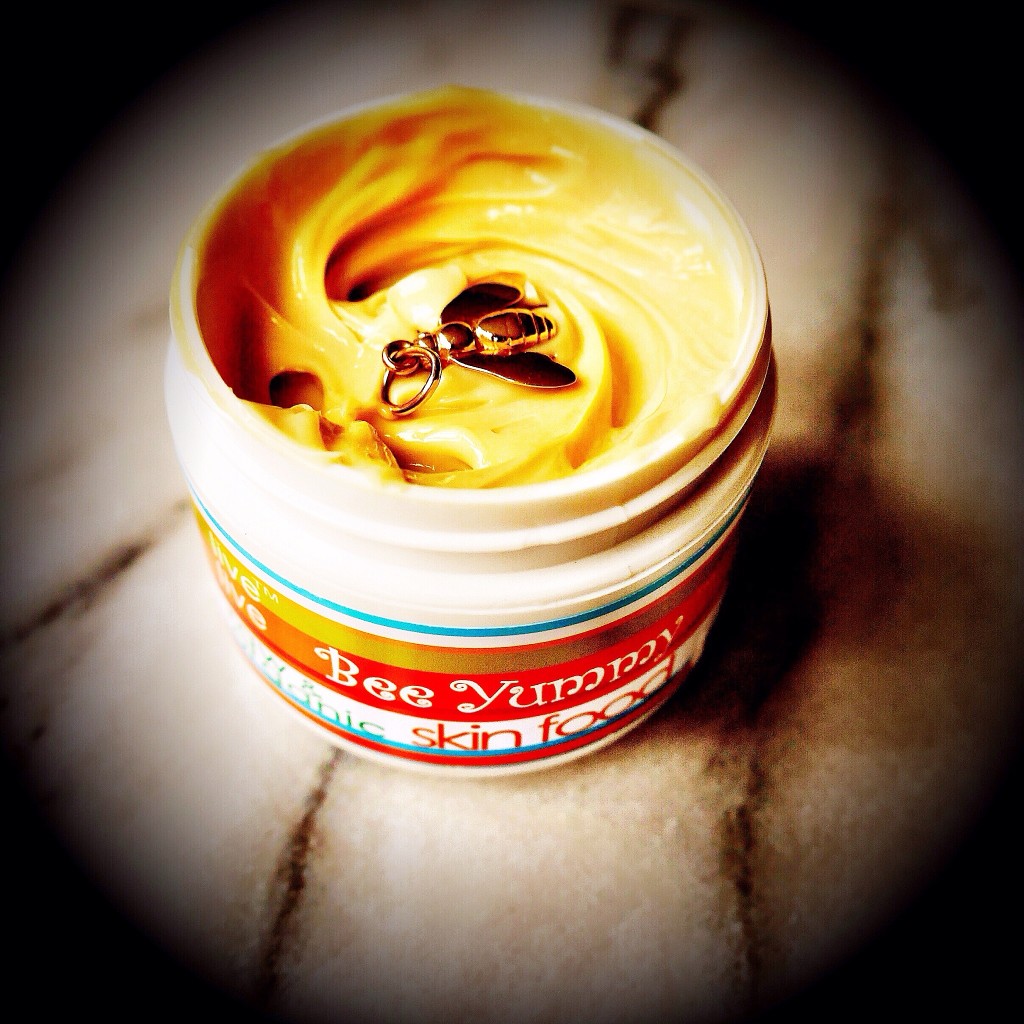 Excuse me but there's a bee in my Bee Yummy Skin Food…  Listen up people, this is perhaps the BEST kept secret of the natural skincare world.  In short, it's a super-powered hydrating moisturiser.  The long story is that it is made of TOTALLY raw ingredients – it's so pure you could eat it!  (stay tuned for a further post about this wonder cream and its celebrity cult following).
My RAW week was written in partnership with A Beautiful World.  A huge thanks also to Raw Fairies for my endless supply of organic juices and salads.  I feel great – really great – and I have been asked twice now if I've had botox!  My skin is glowing…
Ps The Food Police (aka the Smalls) have made me promise that I will mention that a) they liked the juices and b) I sneaked a little yoghurt/blueberries/scrambled egg in at breakfast when I felt too hungry to drive them to school….. other than that – I managed the mission for 5 days of raw!