I wonder how many post-it people there really are in the world.  How many sheer geniuses are put on this planet to devise something which will fundamentally change our lives.
What we do know is that the news of the something will reach us loud and clear.  Family, friends, colleagues, neighbours – even complete strangers – love to be the bearer of great consumer news.  And so once I had heard news of Hubbub's shopping delivery service more than a couple of times, I decided it was time to investigate further.
I got hold of Ben, the marketing guy, at the hub of Hubbub.  And, the ridiculously tiny world we live in manifested itself once again.  A pregnant-me had worked with him on a brilliant campaign at AOL (called Discuss if any of the extended team are reading this – wasn't it brilliant?!). He was working at one of the many agencies involved with the project.  And now – 100s of internet years later – he is busying himself with an Ocado-style home delivery service.  Except one catch – the products aren't from Waitrose.  No, Hubbub is saving the high street (instead of the planet) and its independent retailers.
I know there are plenty of you who love to food shop and I need – for one brief moment – to pretend that I am you.  You see, food shopping is just not my idea of fun.  Let me give you an example, I love Raoul's chicken and vegetable soup.  It is heaven in bowl and the easiest excuse not to cook a big, smelly soup all day long.  But I rarely make it to Clifton Road (Maida Vale) to pick up a tub.  And, if I did, I KNOW I would get a parking ticket.  So the idea of Hubbub delivering this soup to me was enough to motivate me to make my first order.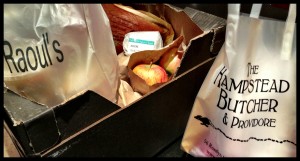 I also ordered some smoked salmon from the fishmonger Jonathan Norris, some fine looking mince from Providore, a butcher in Hampstead and then I pushed the boat out – and added a box of fruit and veg from Earth Natural Foods.
Suddenly I had an order of food I didn't know I even wanted.  I wondered how many other customers have felt the same way.  Hubbub currently delivers across 200 London postcodes from 32 independent shops.  I suppose they might grow if we spread the word or it might just NOT be the next post-it.
Hubbub don't charge delivery for your first order.