I glanced in the mirror. Big sigh.  My hair, suddenly too long, had entered a lank-shapeless-overgrown-mop state.  And my long-term divine hairdresser (who, by the way, comes to my home to cut not just my hair but any friends who have dropped by, the Smalls etc) is in hospital.  With four interviews scheduled for next week, the mop hair could be an issue.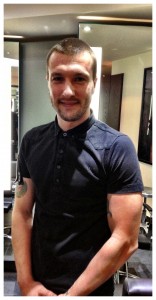 A glam friend (one only needs a couple of these) recommended a Latvian named Kristaps who works at Mowgli, otherwise known as Aveda Lifestyle Salon and Spa (mouthful?) on St John's Wood High St, NW8.   Glam friend couldn't wait to tell me about Kristaps' passion for hair, styling, cutting, colouring and … well, I was pretty intrigued.  Hairdressers don't ever seem to love hair.  They're either good at it  – or simply terrible.
Now, we've all had those awful cuts, the shocking colours and the downright waste-of-time blow dries.  They're not even worth writing about except to mention that, after once particular salon incident aged 16, I wore a hat continuously until it had grown out.
Kristaps bounced over to greet me.  He's handsome.  That shouldn't matter but somehow it does.  He is smiley, friendly and… well, buff.  He wanted to know what I hated/loved about my mop-like tresses.  He examined my hair type (fine, very fine) and talked through some ideas he had off the top of his head.  I challenged him but mostly agreed with his plan of action.
Aveda concept salons are popular in NYC where those lovely ladies want more than just a regular cut and 'blow out'.  The idea is that you leave feeling as wonderful as you look, thanks to the salon's holistic touches.  So, I was offered a neck and shoulder massage before a long, relaxing hair wash with a full-on head massage … in a, wait for it, massage chair.  I think Kristaps could have done anything to my hair after all that massage and I would have nodded approvingly in my new, relaxed state.
Snipping away faster than I could chat (and that's saying something), Kristaps entered his world of hair.  It's no lie to say that hair positively excites him.  He jumps from foot to foot, angle to angle and, just when you think he has finished, he starts all over again.  He multi-tasks too.  And – no, there wasn't any talk of my last holiday nor of plans for Christmas!  He focused on teaching me how my hair should be washed and conditioned and, when I quizzed him, he elaborated on his extensive client base in Moscow.  With a mere 60 client appointments scheduled on each of his five annual trips to the Russian city, it's no surprise that he is undaunted by any St John's Wood madam as well as the London work ethic.
Time was flying and I was still very relaxed.  Mowgli isn't like the other hair salons in St John's Wood.  Firstly, it's calm on a Friday and secondly, it has a full-on spa downstairs.  Mowgli's manager must have noticed my embarrassingly chipped nail polish (the full extent of my Halloween dressing-up effort) as he floated over to offer me a file and polish downstairs after Kristaps had fixed my barnet.
I left with utterly fabulous 'Kristaps hair' (although I always think we can blow dry our own hair better with our own hair products), adequate nails (this clearly isn't Mowgli's strong point) and a calm head.  The heavens opened and I was without a brollie.  But I can't blame Kristaps for that.
A hair cut & blow dry with Kristaps Akmenkalns at Mowgli costs £69.
Mowgli Aveda Lifestyle Salon & Spa  70 St John's Wood High Street, NW8  020 7449 2351