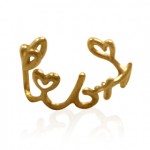 It takes guts to make a career change aged 30.  You have to have a certain amount of self belief as there is a distinct chance you won't plain sail and then, quite frankly, that could be embarrassing.
Julia Burness worked as a recruitment consultant at the bank, UBS before throwing in the towel and retraining as a silversmith and jewellery designer.  Personally, I think she absolutely made the right choice.  I first saw her quirky yet chic (a tricky balance) astrology bangles in one of my favourite magpie hideouts, Orit, in Westbourne Grove.
Written in a scrawl, with a similar look to her 'love' bangle, the bronze before gilded letters l i b r a attract a great deal of attention whenever i wear it.  I hunted Julia down (she has since moved to Henley) to discover what had inspired her to create these highly unusual bangles and to find out more about her bang-on-trend new 'lace collection' which is a huge hit amongst stylists.  It turns out it was her love of words which led her to experiment with the star signs and, quite brilliantly, she can now use your own handwriting to create a bangle as a gift – a child's name for example.
It turns out that Julia is a fan of LifeofYablon and therefore has agreed a 25% discount for any of my readers who are as taken as I am with her astrology bangle.  Just call Julia on 07776265130 and mention me.