It doesn't really matter which god you pray to when it comes to Easter Sunday.  Chocolate is chocolate.  13 days before we are given official permission to eat the brown (and white) sticky stuff to our heart's content and yet The Cavendish hotel on Jermyn Street could not wait.  Today I visited one of their rooms which has been converted in a chocoholic's dream.
The artistic chocolate installation has been created by Westminster Kingsway College, a reputable hospitality and catering school where our very own Jamie Oliver studied.
More than 100 hours of melting, carving, sculpting, setting, spraying….most of the room was deliciously edible…  even the toothpaste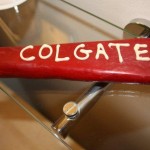 I'm not sure I could sleep after such a sugary intake.  Maybe that's just the point….