Back in 2005, Susie Rogers had an idea.  Her Pilates clients were persistently picking her beauty brains as she flicked through her little black book of dermatology.  London, quite frankly, needed its first medi-spa and she was put on this planet to open it.
Keen to try out Beauty Works West for myself, but NOT keen nor brave enough to lean too heavily on the medi-side-of-things, I opted for a GUAM body wrap (85mins/£125).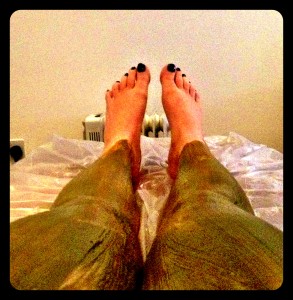 Aggi was probably my favourite therapist over my long 14 months of beauty reviews.  That's quite a claim, I know.   She possessed ALL the qualities you want and need when being scrubbed, smothered in mud, wrapped in cling film and roasted in an electric bed.  She was honest, funny (without too many gags), thorough, informative…
Anyway as she rolled me in mud, she disclosed a small nugget of information: there was no shower on the premises.  But, I wasn't concerned.  Aggi had 100s of hot towels to make sure I didn't sport the new-mud-look as I returned to my car on Westbourne Road.
The treatment was MUCH more relaxing than it sounds and I definitely felt slimmer, detoxed and smooth-skinned afterwards.  If you have a little black dress to squeeze into anytime soon, book this treatment immediately.
Here is my interview with Susie:
How do you relax at home? In front of a log fire cuddling my boyfriend and dog and with a book.
What or who inspires you in business? Smart women who take chances, find a niche and go for it.
How do you persuade clients not to over-botox? By offering alternatives, such as Dracula Therapy with Dr Sister .
Do you face pack at home? Yes, once a week, by order of our therapists.
Who is your beauty guru? Any confident intelligent woman who is not over surgically enhanced: Vivian Westwood, Helen Mirren,  Penelope Cruz, and, of course, Audrey Hepburn.
Social media or local pub? Neither – friends round for dinner .
Latest fashion purchase? Jimmy Choo Biker Boots, perfect for the country and London.
Tell us your beauty secret. Youth, our food supplements, help with hormonal aging. All the creams, treatments and make-up in the world won't make you look beautiful if your hormones levels are failing.
Beauty Works West 8-9 Lambton Place W11 020 7221 2248
COMPETITION:  Beauty Works West has extremely generously given me a set of their Body range (anti-aging cream, body treatment cream, body and hair oil & sugar cane scrub)to give away to one lucky reader worth a whacking great £135.  To enter this competition all you have to do is sign up to my blog (top right of homepage),  follow me on Twitter and RT the picture of my muddy legs on 26th Feb!  The lucky winner will be selected randomly on 27th Feb 2013.