I've never hidden my obsessive paper habit from you. In fact, I've just written a feature article for a magazine (will show you when it's in actual print!) on the very subject. And I suppose at the very heart of all this paper loving are my treasured notebooks. Piles of them, dating back from when I was a teenager. Somehow I can't quite bring myself to recycle the lot  and  – as keen as I am to imply that they are full of brilliant, inspirational ideas – instead they're … well… NOT!
Always on the look out for my next carry-around-dot-it-down pad, my beady stationery eye caught sight of Chroma. And since then, I've ordered more than a few for my favourite people. BRILLIANT stocking filler fodder, insanely colourful, beautifully made and personally embossed – you'll have no trouble understand why I pounced on Gabi Cox for an interview and pleaded with her to sponsor the blog this month.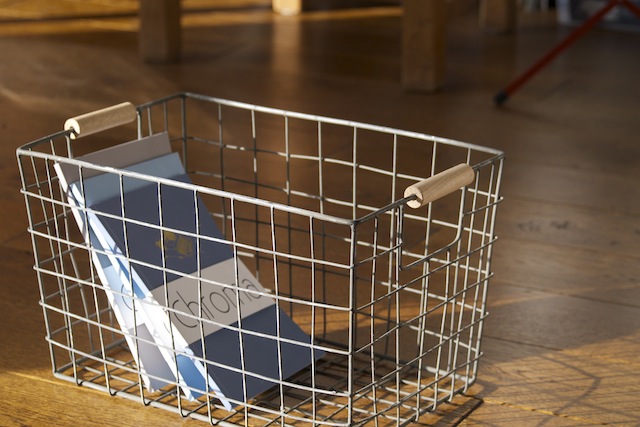 Describe your love for paper.  I have always had a thing for paper, as a child I used to preserve all the wrapping paper from my birthday or Christmas – even painstakingly uncrease Easter Egg wrappers and then iron them out so they were perfect rectangles again. To be working with paper now is literally, a dream come true.
Who or what has inspired you to launch Chroma?  It was my major university project in my final year. I was fascinated by colour psychology and relationships with colour but was struggling with where to take all this information and interest. I started putting together peoples' personal colour stories alongside illustrations and blog colours – they started to look like greetings cards and there was a natural progression on to notebooks and stationery. It suddenly all fitted in to place and made complete sense.
Which notebooks did you use before you launched?  My first notebook was a staple bound, plain pages notebook – one of the first I ever had made from my first supplier. It was in the "Meredith" (grey) with silver embossing of my initials.
What has surprised you about launching this business?  How all consuming it is. It sounds ridiculous but I think I was definitely naive about the amount of time the smallest things take. I am a one-man-band doing everything myself from the marketing and promotion to processing the orders and creating the products. I eat, sleep, breathe Chroma, it takes over a lot of my life – if I didn't love it so much I think it would be very difficult.
Which notebook are you using at the moment and what do you write in it? My current notebook is a lined Dawson (light blue) one, with gold embossing. I am planning to work my way through all the colours. I am a prolific list writer, multiple lists are written on a daily basis.
Pencil or pen girl?  Pen – black biro in fact!
If you had to liken Chroma to a fashion brand, which would it be?  Probably Uniqlo – I love the fact they produce functional, affordable items in so many colours.
What do you dream of?  Taking over the stationery world, one notebook at a time!
What motivates you?  I want to wake up every day and have a job that I love. Working for myself and for Chroma fits this perfectly.
Where would you love to be stocked?  I would love Chroma to be stocked in John Lewis as it's a personal favourite of mine.
Which colour are you and why?  I think I am a blue – it's my favourite colour. No matter the shade I think it is very calm and one of my strengths is the ability to keep a cool head. I also find it a very comforting, familiar colour.
What's next for Chroma?  New products! I have new spiral bound notebooks coming out in the next few months – they come in 10 new colours and allow the customer to pretty much build their notebook, choosing the colour, embossing, inner pages, number of inner pages etc.
The Chroma range is currently available in 20 different colours. The embossing service is free and you can choose anything you want (including font and size) for the front of your notebook. Within 48 hours, the gift-wrapped book arrives on your doorstep. If you really love someone, give them paper this Christmas!
COMPETITION TIME! Gabi is very generously giving away 3 Chroma notebooks (worth £7.50 each) to one lucky winner. All you need to do is follow @chromastationery and @yablon on Twitter and tweet what you would emboss on one of your books! A winner will be chosen at random on 16th December 2014 and the notebooks will be with the winner by Christmas!