Amid the image noise that is the instagram we love, I found miss_magpie_spy, a fashion illustrator, passionate about her vibrantly colourful sketches as well as her fashion designer day-job.
As more and more of her sketches popped up in her feed, I was smitten.
It's her evolving style, quirky looks and sneaky girl smiles which grab me. So, of course, I got in touch and when I heard that one of her upcoming live illustration gigs was in Selfridges at the Clinique counter (last Saturday), I grabbed my very own in-house budding fashion illustrator (Mini) and we jumped on the no. 13 bus headed for the yellow shopping emporium.
As it turns out, Niki Groom (aka @Miss_Magpie_Spy) is every bit as whimsical as her drawings. The three of us had a quick drink in the pop-up Everyman cinema lounge before she had to take to her drawing board on the beauty floor.
when did you first realise you could draw?  I drew from an early age, and remember having my drawing of a ship up in the school reception when I was about 6. I never stopped drawing. My English teacher used to say she looked forward to my A Level essays due to the drawing that covered the margins.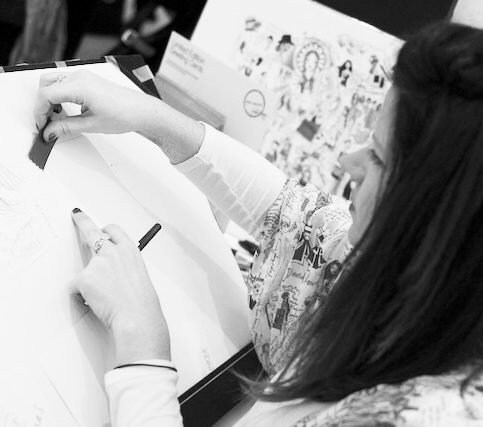 did you ever do houses/animals/farm – as opposed to fashion?  Yes, I draw everything…but mostly fashion related. On a recent holiday to Laos though I drew what was around me. I'm always drawn to drawing people though, and pattern and colour too. I can't imagine ever being inspired to do a landscape unless there was someone with a fantastic dress in view!
do you draw each and every day?  Just about, yes.
how do you feel if you don't?  I miss it. I find it relaxing…..so if I've not put pen to paper for a few days I can feel a bit twitchy.
what is your go-to doodle if on call waiting ?  Faces, all the time.
who would you LOVE to draw live? Model Devon Aoki.
do you feel the pressure with a queue (at live events)?  A bit, but I also get a real buzz from it! Time flies when I do live events although I have to rest my arm for a few days afterwards!
do you teach? would you ever?  Yes I have taught before and wish more people would approach me! I'm a fashion designer too for the High Street and would love to do more visiting lecturer work.
which is your favourite art supplies shop?  I haven't got one….I pick stuff up here there and everywhere.
where would I find you sulking?  I'm not a sulker!
WATCH MY LITTLE VIDEO OF NIKI ILLUSTRATING MINI (BELOW!)
dream destination?  At the moment I'm obsessed with going to Mexico. I've travelled far and wide and this is the next place on my list.
what's on your Father Christmas list? This amazing necklace from Anthropologie. Magpie by name and magpie by nature!
tell us a BIG secret.  I can't I can't! Well I can give you a clue…..my work might appear in a window near you soon!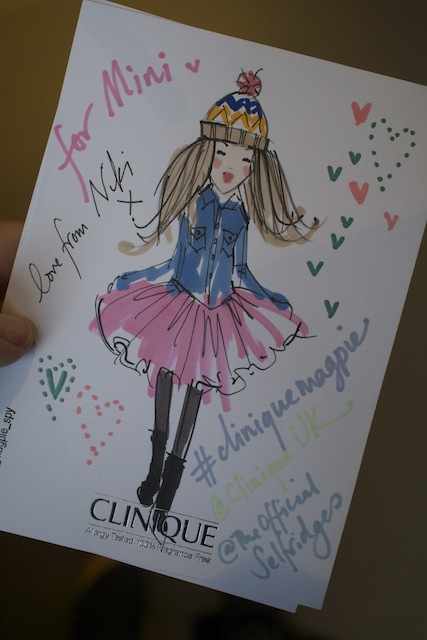 Niki's details are here – do contact her with your illustration/design requests or just enjoy following her on instagram…