It's not only that I'm curious as to who's lunching where and with whom, it's just that I'M EXHAUSTED.  I'm on strike.  This week, I'm not going out, even once, in the evenings – at least until Friday.  And I'm going to do all my eat-reviews at lunchtime instead.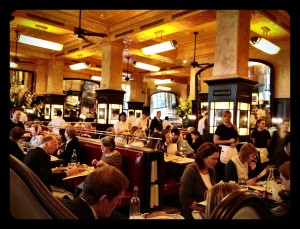 You see, my workday is predominantly 830am – 3pm so lunch does really get in the way.  Time-consuming and viewed quite simply as fuel to get me through the afternoon with the Smalls, I usually eat something on the way back from the gym or when rushing off to the bus stop.  White tablecloths, hot food and a menu hardly ever come into it.
My first of 3 lunches this week is at Balthazar.  Of course.  McNally and Caring's new venture in Covent Garden opened at the end of last month and then only opened its lunchtime doors last Wednesday.  The place is bubbling with excitement as eager foodies elbow their way in.
Although, I'm not sure that a sharp elbow works.  I tried both of mine, one girlfriend even faked a whole breakdown on the reservation line and it was only by chance I managed to secure a table for two at midday.  Chance, perseverance and a little begging.  This – my readers – is London's hottest new restaurant with its very own hotline.
My lunching lady today, as an ex-ballerina and a regular at the Royal Ballet, has been counting down the days for this brasserie to open.  Located on Russell Street, it is ideally located for opera, ballet and theatre goers.
We ate two starters each washed down with lots of tap water and some black coffee – all with change from £50 including service. Dessert (as you are all too aware) is out of the question for me at the moment and – another bonus of lunching – wine, cocktails and beer are sort of out of bounds.
I started with my snails, followed by a goat's cheese and onion tart.  Ex-ballerina's lobster risotto with black truffle also tasted amazing.  But a good meal isn't really why you're there.  The atmosphere, the buzz and the sumptuous décor:  enormous antique mirrors, properly old-fashioned  loos, spotlessly shiny brass rails and bright red leather banquettes.  Balthazar makes you feel special.  As if YOU are the hottest new thing in town.
Book now without further ado and breathe calmly while they try to secure you a booking.  And, if they can't, raid the Balthazar bakery next door.
Balthazar London 4-6 Russell Street WC2 020 33011155