I was between meetings, the most dangerous time to feel hungry.   Craving energy, I honestly only wanted a big coffee with equal-size pastry.  But my Plenish Cleanse days did teach me something: a fresh vegetable/fruit juice can make you feel full, energized and, of course, as virtuous as a supermodel.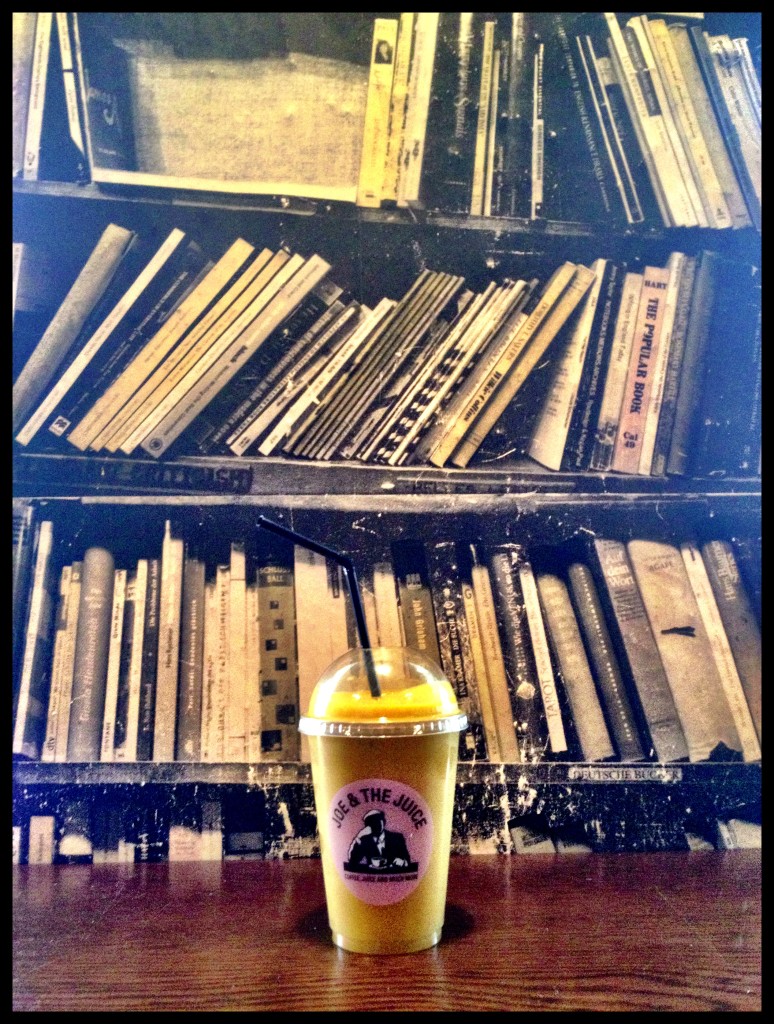 It was at this moment that I first spotted Joe and the Juice.  Just off Carnaby Street, the 4th UK branch of the Danish coffee/juice chain was playing some pretty pumping tunes for 11am.  The large logoed windows and somewhat gloomy interior didn't initially lure me in but, once inside, its simple and spacious interior felt relaxed and cool in comparison with other brightly lit and crowded high street coffee chains.
Wire baskets of fruit and hessian sacks of coffee lie open to tempt you.  I was a little overwhelmed.  A handsome barista came to my rescue.
"Are you Joe?" I asked with a big smile.
The cool dude in a trilby (note:  no uniform) laughed, not unkindly.
'This is a chain' he explained.  'And there is no Joe.'
Feeling deeply uncool, I quickly ordered the Veggie Focus: apple, carrot, celery.  The dude suggested I might add a little spinach to the concoction. (£3.95)
Of course then I wanted to know more.  What makes Joe & the Juice a certainly different addition to our café market?  It feels very media-Soho so can this formula really work on Regent's Street (where there is also a branch)?  Curiously not classically Nordic in style but boasting more than 15 in its homeland – and with an aggressive european domination expansion plan – what is the crux of this juice brand?
In response to all my Qs, I've decided Joe and the Juice is fashion's answer to a cool coffee/juice hangout. Recently having celebrated its 10th anniversary, the chain is ultimately aimed at the young retail addict but with a winning formula of healthy good living mixed with cool ambiance, it will appeal to those much older too.
Joe and the Juice – visit the site even if just to listen to their soundtrack….
65-67 Broadwick Street W1 (at the end of Carnaby St.)