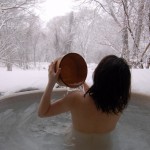 Perhaps in preparation for my week in the French Alps,  the beauties-in-the-know at Beauty and the Dirt sent me along to experience the snow room (and much more besides) at K West Spa, Shepherds Bush.
Their Russie Blanche signature treatment is as close as us Brits can get to the real Russian beauty rituals known for their healing properties.  For those of you looking for a total refresh of physical and mental health, this two-hour ancient procedure will detoxify you from all modern day stresses and strains.
Kicking off with a sauna, the body is warmed before the 'Baniya Besom' is performed by the therapist.  For those, like me, who had no idea what this meant, a bunch of Russian Birch branches, soaked in therapeutic Russie Blanche oils, is swept along your body with intermittent taps.  It is these taps (don't worry, they're definitely taps and not whacks) which help to balance your energy, stimulate your circulation, ease muscle tension and remove toxins.But don't get too relaxed.  It's at this point you need to leave the warmth of the sauna and plunge yourself into the K Spa snow room.  Here, in these sub-zero temperatures, your therapist will rub snow and ice up and down your limbs and on your face until, butt-naked, you can bear the freezing cold no more.  Back to the sauna you trot, and repeat the hot/cold routine until your body is totally confused yet wonderfully zingy.
find out how the treatment really finished me off…
Russie Blanche, Russian Baniya Ritual, £230 at K Spa, K West Hotel & Spa, Richmond Way, London, W14, 020 8008 6612