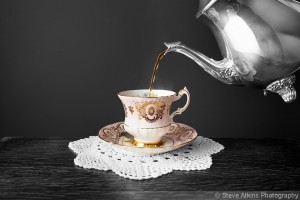 My head is sore this morning. And I'm not really allowed to tell you where I was last night. Anyway, even if I did divulge, you wouldn't believe that I was drinking cocktails poured from teapots in a 1930s apartment building. Known by many to be terrible at keeping secrets and, based on a need-to-know basis, I will now reveal all that is quite brilliant about Barts, the 'exclusive member-only' bar hidden away in the rather stiff serviced apartments of Chelsea Cloisters.
Located on prestigious Sloane Avenue, Barts even describes itself as London's worst kept secret. Ringing the bell brings a quirkily-dressed geeza to the door. He slides open the grate and peers out to find out who is keen to gain entry to this cocktail den.
Old paintings, cuckoo clocks, stuffed animal heads and vintage Mickey Mouse wallpaper contribute to the eccentric feel of the bar, but my scream of delight (cocktail-induced) was in response to finding an old-fashioned trunk full of wigs, costumes and hats). Genius!
The crowd:
Brainchild of party boys, Duncan Stirling and Charlie Gilkes (the duo also own '80s nightclub Maggie's and pizzeria karaoke restaurant Bunga Bunga), Barts was designed to be a new concept in London's bar scene. Regulars and members are given key card access and can even leave their own pewter tankards hanging above the bar.
The drinks:
So what did we drink? Vodka and Gin-based 'tea' served in teapots and drunk from vintage cups (£10.50 per pot).
The food:
Did we eat? We didn't, as we were celebrating a great girlfriend's 40th with dinner booked further up Sloane Avenue. I did glance at the menu, though and was tempted by the comfort food, such as macaroni cheese (£7.50), cheese on toast fingers (£5) or scotch quails eggs (£5.50). Will I return? It's silly and fun; just what the doctor ordered. I'm aiming for tankard status.
Barts, 87 Sloane Avenue, London, SW3; www.barts-london.com; 020 7581 3355
This article appears on West London Living – click away to find somewhere fun or new to eat or drink…
http://www.westlondonliving.co.uk/food-drink/bars/barts/