A hairdresser does not tend to cut her own hair, a builder will often employ another builder to help him build a house so here I am telling a blogger's story on my blog.
I met Ella Gregory, founder of the brilliant fashion blog www.cocosteaparty.com at a product launch earlier this year.  Chatting to her about the enormous following she has built up, the brand she has created and her passion for fashion, I felt honoured when she agreed to answer my nosy questions about her blogging career to date.
1) Who is your hero?
There are so many women that I look up to. But I suppose in the fashion industry the most obvious choices have to be Anna Wintour and Natalie Massenet, who are both at the top of their game. I also have  great respect for Suzy Menkes. I see her around LFW all the time an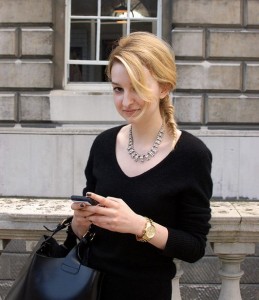 d she is constantly filing copy, whether she's lining up outside show venues or sitting on the front row.
2) What time do you power up your lap top each morning?
Always before 7.30am.
3) What don't you buy online?
I prefer not to by makeup and beauty products online as I prefer to test them in store and have that one-on-one contact with the girls behind the makeup counter. I still don't think anyone has managed to create that same experience online.
4) Which brand does it best online?
Net-A-Porter is still the best, in my opinion. But I also really rate ASOS for their mix of great price points, easy returns and fantastic customer service.
5) How many glossies do you read each month to stay 'in the know'?
Between eight and ten, I would say. Although each month I find I have less time to read everything I want to. The publications I always look forward to are US Vogue and ELLEUK.
6) Which PR agency understands bloggers the best?
I've developed strong relationships with many different agencies and in-house PRs over the years, and I think overall the majority really understand bloggers now. Whenever a story or campaign is pitched to you that isn't quite right I always think it's best to explain why, rather than just saying no, as it builds yet another level of understanding.
7) How do you unwind?
I have a strange obsession with medical dramas, so love to watch old episodes of ER.
8) What have you got your eye on at the moment?
This season I'm loving the collections from Joseph and Theysekens' Theory. They're both so easy to wear and will continue to work well for seasons to come.
to keep up-to-date with the latest catwalk trends and Hollywood gossip, drop into www.cocosteaparty.com