It's been a week of dithering.  Having clearly over-relaxed for a couple of weeks, I now can't motivate myself to do ANYTHING.  And that's all very well but, by tomorrow morning, the year will truly be in full swing and dithering no longer allowed.
So, here are my new instructions to self.  I thought they just might appeal to any other foggy heads out there.  (If you're rolling your eyes at this point and glancing down at a ticked off list, this post simply is NOT for you.)
1. Draft and send that email you've been putting off NOW.
2. Clean the hideously dirty car.  Well, don't actually clean it but call fabulous Martin (+44 7907 156004 at London Elite Car Valeting) who'll nip round and make your neighbours envious.
3. Write out this week's to-do list by hand. Google may have invented every list-making tool on the planet, but writing it down is MUCH more therapeutic.
4. Embrace the New Year.  It's probably a good time to juice and soup yourself up.  Take the opportunity to dig out a new recipe or two.
5.  Scan the TV guide for a new TV drama.  We're all mourning a lack of Homeland.  (But I think Mr Selfridge which begins tonight at 9pm/ ITV1 might just be what we are looking for.)
6. Give up any diet which is making you either hungry or sad.  Life is too short.
7. Slow down. By definition, I'm a pillar-to-post person.  I always try to remember my Grandma 'put her feet up' for 30 minutes after lunch each day.
8. Phone a friend.  Have a giggle.
9. Whatever it is bothering you, do some exercise and then see how you feel about it.
10. Plan a dream holiday.
————————————————————————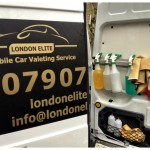 COMPETITION:  Martin from London Elite Car Valeting is very generously giving 5 (motivated) readers (who live in the London area) a free car wash worth £15.  All you have to do is 'share' this blog post on my Facebook page.  I will pick the winners randomly on Sunday 20th January, announce them on Facebook and then Martin will be in touch.