Ping-pong isn't just for the Chinese.  Casting aside their six medal Olympic win on our turf, London has also caught the bug.  Ping-pong tables are springing up all over the city.
Early this week, I had a meeting at The Book Club in Old Street and then last night we joined in the lastest craze on Earls Court Road at Ping.
So if ping-pong is now cool, Ping is the business.  Alcohol-fuelled, communal table tennis tables, with freshly-made pizzas by Bruno Elias of Pizza Italian Academy followed by more cocktails, a DJ and some dodgy dancing.  What could be better?
And just when we thought that this concept bar/restaurant couldn't get any better… the cult game amidst American undergrads, Beer Pong, was explained to us.
Girls against the boys, we aimed our best tipsy shot at getting the ball into the cups of beer on their side of the table.  Raucous and common-room behaviour ensued until our slot on the table was up.
The team behind Bungalow 8 were so inspired by a trip Stateside where the ping pong trend is in full swing that they felt compelled to bring the hype to London.  And the 7000 sq.ft venue with two bars and three ping pong tables is pretty impressive.  Nursing our hangovers this morning, I know that it wont be long before we organise a re-match.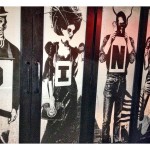 Pizzas, salads and cocktails are all £7:50, ping pong is free – book your slot in advance.  Open til 2am on Fridays/Saturdays.
Ping, 180-184 Earls Court Road, London, SW5; weloveping.com