Five a day, five a day…. yawn, yawn, yawn.  We all get it.  The health benefits of eating your weight of fresh fruit and vegetables is nothing new.
But what few of us really appreciate is that those same fruits (and nuts for the sake of this post) can also produce fabulously natural beauty products.  Full of antioxidants and valuable vitamins and minerals (and of course combined with other necessary ingredients), these products make the BEST masques, creams, hair oils and lip salves.
And – just to prove my point, here are my fav fruity beauties:
If my lips are happy, I am happy.  This ball of EOS is deliciously flavoured while also packed with antioxidant-filled pomegranate and raspberry extracts.  It's also a great talking point.  £4.95 from Big Green Smile.
Repose by Temple Spa is an aromatherapy, rich moisturiser which – quite literally – promises you THE BEST night sleep you've had for months.  Apply, lie down and breathe.  £37.00 from Temple Spa.
AHAVA's Extreme Radiance Lifting Mask is packed with minerals and botanicals from the Dead Sea, berries from the mountains of the Himalayas and – curiously – some fabulous dates.  £32 from AHAVA.co.uk
It was the African plums in this (Aromatherapy Associates) mighty Fine Line Face Oil which caught my attention.  As with all AA products, this one is pure, rich and highly effective.  £43.50 from Space NK.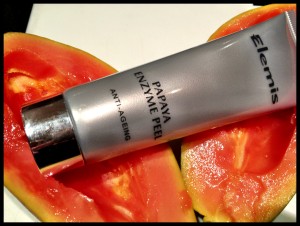 Exfoliants don't need to be abrasive.  Elemis Papaya Enzyme Peel uses the natural fruit enzyme papain, extracted from crushed papaya, to gently dissolve superficial dead skin cells.  £29.50 from Time to Spa.
And last but certainly not least is the NUTTIEST beauty secret of all.  There are so many oils in RODIN by RECINE Luxury Hair Oil I can't possibly list them all.  But I can promise that they leave your hair massively moisturised, shiny, healthy and smelling oh-so-sweet.  I do admit though that is is not cheap at £60 from Beauty Works West.