1) GoPro Camera HD £228(Hero 2) – TV quality footage of some less quality ski moves.  Mountable on your helmet, the camera also doubles up as a great summer video camera as it dives in pools and films the entire tennis court. (Scott Dunn equip their chalets with these beauties for their guests to use).
2)  Motorola Motoactv 8GB GPS Fitness Tracker £152 is genius.  He uses it for his weekly 10k run in London but it doubled up perfectly as a ski tracker.  Speed, distance, altitude, effort – all the stats you need to justify another beer at the end of the ski day.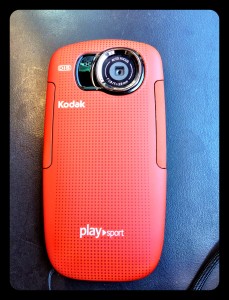 Kodak Play Sport
3)  Kodak Play Sport £94.99 Waterproof, shockproof, dustproof and totally idiotproof to use. And it's the world's first camera to allow you to post your films directly on social media.  Dangerously for self-publicists?
4) iSki Tracker app (free).  The app is a little disappointing as it can't record your day's skiing without data roaming on.  The marketing says it's for the 'real skier or boarder'….