This trip has been a long time coming. A really, really long time if you count the first time He and I mentioned the idea. On our way to Brother's wedding in Melbourne we made our first visit to the iconic Mandarin Oriental hotel in Bangkok purely as a night stop-over. Relaxing by the swimming pool, we observed a family of four; children splashing around in the water while their parents (with a slightly smug smirk) read their books. Ice water, cold face flannels were served alongside coconut ice cream incase anyone felt remotely peckish. The scene was idyllic. All we needed to do was produce a family and return one day.
Of course, life often doesn't work out quite that way. The couple of smalls weren't as forthcoming as we wished and, a few years later, we found ourselves returning to this beautiful hotel en route to a week's holiday in Phuket.   In fact, I distinctly remember reading a book – on adoption – reasonably frantically.
And finally, this time, we're 4. The city of smiles, our chosen hotel with quite astonishingly superior service and the (now present) Smalls has fulfilled our dream.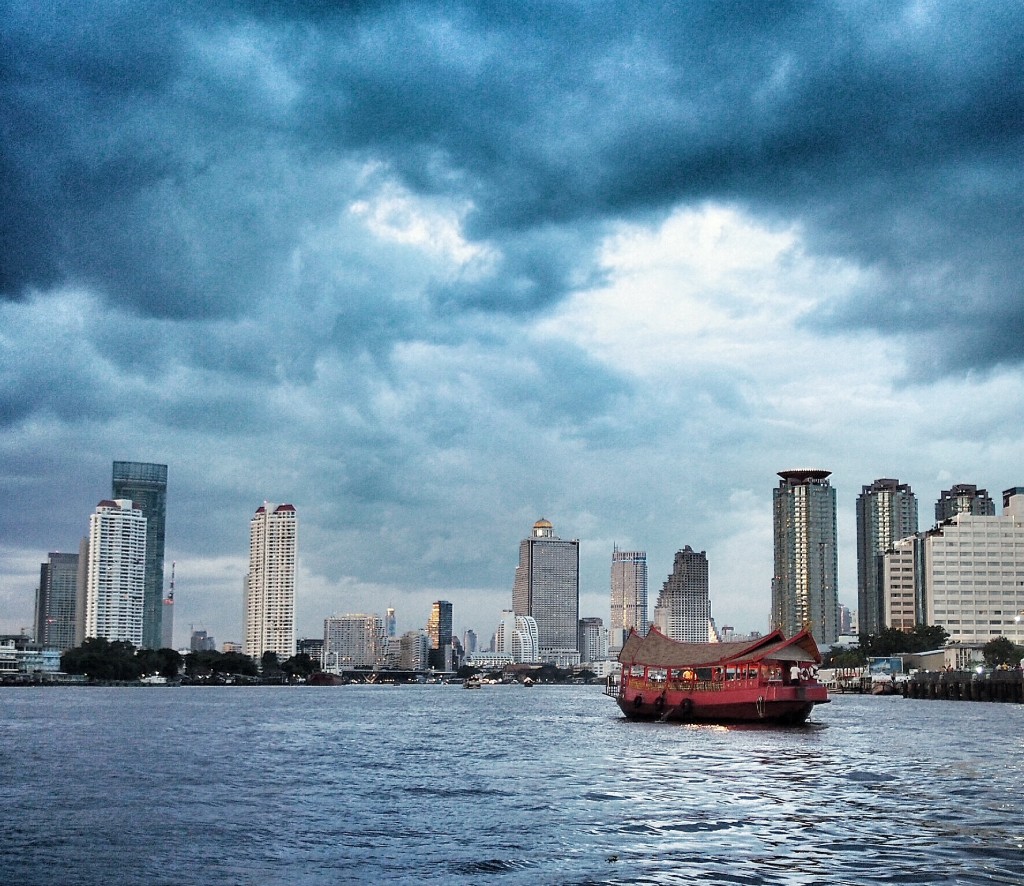 12 years on, Bangkok is, of course, much changed with a glittering skyline to reflect this.
But we did take a long tail boat down the Klongs to see how those live on the water. Shacks with pots and pots of well tended plants, barely there roofs plus the obligatory satellite dish. Fixated on showing our Smalls the world-at-large (ie those who aren't complaining about piano practice and fish fingers), we also walked around the less privileged areas, trying our best to point out how life in Bangkok compares and contrasts to our own lives in London. Bartering, being street smart and respecting their culture led to many questions – some sharp and others plain amusing.
A little about the hotel, this beloved establishment. For those you aren't aware, it first opened its doors 139 years ago. Since then royalty, statesmen, politicians, businessmen, authors and performers have enjoyed The Oriental's hospitality. A sanctuary during the 2nd WW (occupied by both Japanese and American forces), the hotel went on to a new ownership of local city residents, including one Mr Jim Thompson (we loved visiting the "Thai Silk King"'s home).
Full of tradition, culture, class and yet intense luxury and probably the best service in the world, I can think of no better place I'd like to be permanently relocated.
Sometimes too much service can be an irritant. Not here.
Reviving jasmine flower garlands as you step off your long haul flight. A cocktail in the 1950s jazz Bamboo Bar. Traditional Thai cuisine and dancing across the river in the Sala Rim Naam restaurant. Handmade chocolates sent (from the lobby) to your room. A lift man who knows your name. A special message at turndown to lure you into a deep sleep. And that refreshing coconut ice cream by the pool.
I honestly can't think of any reason to leave this slice of heaven.
{Other than we are moving into part two:  Cambodia of our Asia adventure.}