The best thing about dividing up your holiday allocation into different mini adventures is that it feels like you spend MUCH longer away in total. Each touch down (I won't say unpack as I don't always…) opens up a new chapter and, besides, we all get along much better when one [holi]day doesn't blur into the next.
So – day four in Siem Reap, Cambodia and I feel like we've been here for a couple of weeks. Recommended by an old contact of mine, Jono of Nomadic Thoughts, we decided to stay in more of a luxe lodge than a full-blown hotel. I hope La Residence D'Angkor won't object to this description. Casual luxury, so that comfort and service are evident without the feeling of over-pampering or unnecessary fuss.
The rooms look out onto an impressive 30m pool and a super chilled sun lounger area. So when we haven't been exploring, there's been a fair amount of swimming, sleeping or reading/playing Chess in the open deck bar lounge.
The curious thing about Siem Reap is that, when planning this part of the trip, I had thought we were here mostly to explore those ruined temples. Booking the guide and allowing enough time for the most famous of these 12th century 8th wonders of the world was as far as I had gone.
But then, a press release had popped into my in-box a couple of weeks pre-trip. A new ethical fashion label called Holi, was launching and – guess what – designed, manufactured and seeded here in Siem Reap.
Loving the coincidence and intrigued by the business and its ethics, I got in touch with founder and CEO Leah Rodrigues asking if it might be possible for me to drop into the studio while in town. And while she and I were chatting, I explained how much I wanted to experience the real Siem Reap. And that's how I found Touch A Life and the wonderful work Mavis Ching does.
He and the Smalls were game before I had even finished explaining how much I wanted to get involved. I warned them that it would be hot, hard work and potentially emotional. But they were still game.
So yesterday we took a tuk tuk to Mavis' back garden and – together with another dozen volunteers – made omelets, rice, a curry and a vat of soup (all gluten/meat free) for some 80 six to twelve year olds in need.
With Abba tunes blaring and some engaging Portuguese medical students for chitchat, we all mucked in washing, chopping, peeling and cooking the vast quantities of food. The atmosphere was fantastic.
Mini helped set up 4 large basins of water with some hand soap so that our guests would be able to wash before and after they ate.
And then they started to arrive.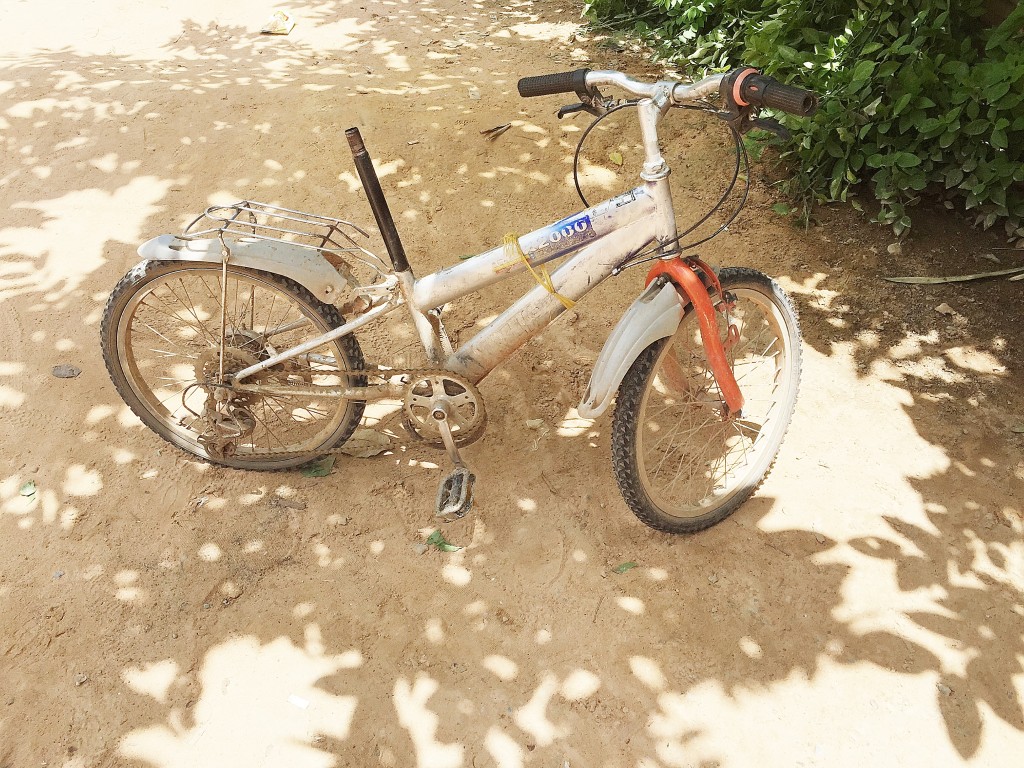 Some had cycled 7km for the food. Others were on foot, either from the factory next door or from a local school. Mums were out at work or had simply too many mouths to feed. Every single one was grateful for the food and I could see how much they valued Mavis' one-on-one attention as well as the Touch A Life community feel at large.
One boy came asking for shoes. Keen to teach them life skills, Mavis suggested he should wash up the pile of plates in return for some stock sliders.   Two of his friends got wind of the deal and rolled up their (proverbial) sleeves to help him out. Together the threesome worked their way through the washing and drying task.
I kept observing as Mini and I handed out the omelet. (He was on curry serving and Small was tasked with giving each of them a vitamin).
Toothache, headache, fevers. Mavis assessed and enabled. She knew each of the 80 by name elaborating on their familial circumstances as I keen to know.
'Thank you' each and every child said to us with glints in their eyes. 'You're welcome' we chimed in response.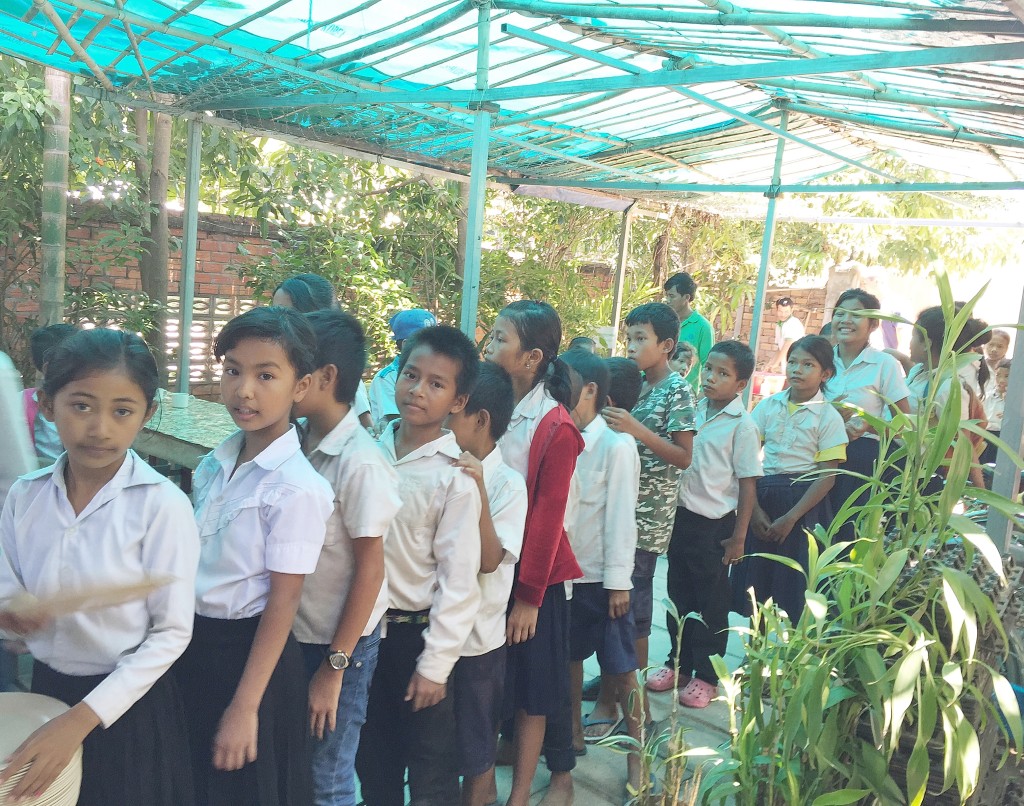 Smiling gratefully at all the adults, I suddenly noticed how differently these children were looking at our Smalls. A real smile; a curious friendship grin. One girl even made a heart shape with her fingers, directed at Mini.
Mavis caught me wiping away a tear; she knew that the life being touched was mine.
Touch A Life feeds more than 5,000 hungry mouths a month in Siem Reap and Mavis' team travels to the surrounding area every Saturday to distribute to those who can't journey to her.  
{Part One of our adventure is here.  Part Three is still to come.}