I waited until the end of my meeting with my current blog sponsor to drop the launderette into conversation.  Even then, it was a hard one to pitch.  A couple of weeks earlier, I'd walked past a retro, cult-looking launderette on England's Lane NW3 … and I was just DYING to shoot the new swimwear/resortwear label, Biondi there.  Totally out of context for a luxury brand but spot on for the brand's social media presence.
And then I almost fell of my chair as Claudine Davies, founder of Biondi Couture (the boutique in Chelsea and here online), the entrepreneur behind the wholesale business, View Studio and now swimwear designer of the new in-house collection, Biondi, wholeheartedly agreed with my quite ludicrous idea.
She's actually an old friend and I sensed her big-fat yes-was simply to amuse me, the over-excited kid asking for a treat.  Either way, I ran with it.  FAST.  Before she could change her mind!
Oh and what a treat the whole project has been.  The first call went out to my friend and seriously talented photographer Clare Walsh.
If anyone would 'get' what I was trying to create, it would be her.  Not only did she grasp my gist, she had a million ideas at to how we could achieve it.
Between us we recruited our launderette dream team.  From Paul on hair, Alex on make-up to our stunning models, Ruth and Fiona with Adam (Claudine's brother) filming – and of course the Biondi Couture team of Aliya (designer), Sophie (marketing) and boss Claudine who pulled out and styled some stunning outfits from what is the first ever Biondi collection.
As this is  a fully functioning launderette, we had to work outside of washing hours and it was late into the evening before we packed up more bikinis, swimsuits, wedges, silk dresses/trousers, sunhats, sunglasses, beach bags and visors than you could shake a stick at.
Exhausted but slightly wired, we all agreed these luxurious designer holiday togs had been extracted from their natural, glamorous habitat but (and I hope you agree) the final shots (which will appear very soon on Biondi Couture's Facebook, Twitter and Instagram feeds) maintain the collection's elegance, style and perfect fit.
Big thanks to all involved but a special mention to the lovely woman who runs the launderette for being so generous with her iconic location and to Black Truffle deli (3 doors up), our hair and make-up station long after closing time.
Clare's photography from the shoot is SPOT on and exactly what we were looking to achieve.  Keep a keen eye on Biondi's Facebook, Twitter and Instagram feeds to see her pics first!
COMPETITION:  To celebrate Biondi's now-infamous launderette photo shoot, Biondi Couture has given Life of Yablon a stunning bikini or swimsuit (worth up to £245) for one VERY lucky reader.  To enter, all you have to do is to tell us what you think of the photos as and when they pop up on Biondi's social feeds. LIKE and SHARE on Facebook, RT on Twitter and LIKE on Instagram to show your LOVE for this stunning Summer 2014 wardrobe!  One of you will be chosen at random on Saturday 31st May and notified via Facebook.  Good Luck!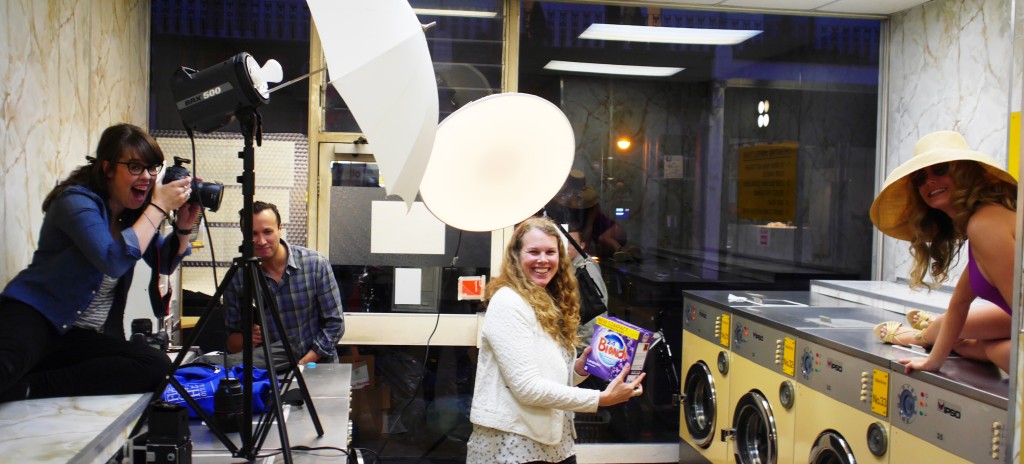 This post was written in collaboration with Biondi Couture.com