You may remember I 'went RAW' a couple of weeks ago.  And, of course, the best bit of that little experiment was the opportunity to dive head first into the raw beauty lotions and potions courtesy of my delicious sponsor, A Beautiful World.
Organic, natural, raw beauty products are currently where it's at in the beauty world.  Especially when your face is worth a fortune… the Jagger sisters (Georgie May and Lizzy) are completely potty about the Bee Yummy skin products.  Together with flat mate Cara Delevingne, they stock pile the jars when in NYC because – until now – it hasn't been for sale over here in the UK.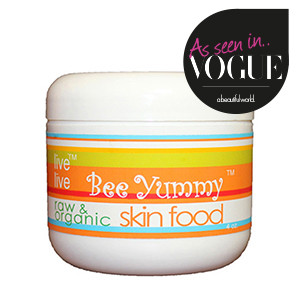 I say 'until now' because – as of this month – A Beautiful World, is now retailing the whole range.  Packed with the likes of bee pollen, propolis, wildflower honey and royal jelly, you'll visibly notice your skin rejuvenate – without the help of a single chemical.
COMPETITION:  The natural beauty website is offering a full set of Bee Yummy products (Skin Food, Honey Mask and Eye Balm worth £78) to one of my VERY lucky readers.  To enter this competition – all you need to do is follow A Beautiful World on Twitter and tweet them at least one of the ingredients of this super-natural beauty-boosting range.  The winner will be chosen on 1st March 2014 at random and notified via Twitter.