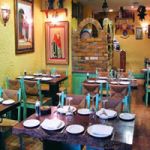 The brief was a tight one.  I had to find somewhere perfect for four of us to dine.  He and I were to meet sister-in-law's new beau for the first time.  Not too noisy, but noisy enough.  Not extortionate but enough of a treat.  In town but not in the City.  And, I wondered, was there any subject we shouldn't mention or clothes we shouldn't wear?
In times of need, Lebanese favourite, Fairuz, always fits the bill.  Located just off Marylebone High Street, it's low key enough to attract the Marylebone foodies and, with its casual neighbourly feel, allows all casual conversation to flow freely.  The small venue, with whitewashed walls and closely packed tables has always been a regular favourite of ours.
Munching on the welcome bowl of raw vegetables (big thumbs up from me), we ordered a selection of Fairuz's fail proof mezze (favourites: tabbouleh, hummous, grilled halloumi and a pomegranate salad).
It turns out new beau is a lot of fun and actually I find it refreshing dining with a newish couple, rather than yet another smug married.   Conversation flowed as fast as the dishes kept coming and, between mouthfuls, we exchanged thoughts on social media, technology and public speaking.
The big brother in Him was as satisfied with his shish kebab as he was with his sister's main attraction.  The charming Lebanese owner, true to hospitable form, presented us with a platter of fruit as well as an assortment of bite-sized baklava to end our delicious feast.  The meal and rendez-vous had been an all round success.
Fairuz, 3 Blandford Street W1   020 7486 8108