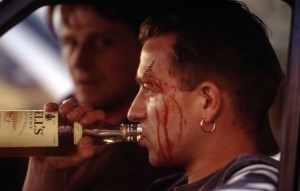 Last night I was transported back to the 80s.  Not in a 'Walk like an Egyptian' Bangles sort of 80s way but a grittier, violent flashback to the football ground hooliganism which, at that time, dominated 'the beautiful game'.   Directed by the incredibly talented, Phil Davis, the cult film I.D. was first released in 1995 in the world of VHS.  But last night I had a sneak preview of the re-mastered version on blu ray (before its release on 14th May) and can confirm that the film will be praised once again for tackling such a hardcore subject and revealing the darker side of football passion.
And I have no doubt, in its new updated format, it will appeal to the non-football fanatic and the die-hard fan alike.  In fact, maybe more so in 2012 when there is a more comfortable distance from the disgraced era of infiltrated riots pitch-side.  I, for one, understood that John (Reece Dinsdale) is an ambitious young policeman seeking authority, a sense of belonging and the sheer thrill of fighting. He leaves his world as a respected member of the community and destroys his relationship as he finds the thugs and their way of life to be irresistible.
I was fascinated to hear Davis talk after the screening.  'This is obviously not a celebration of football hooliganism' he told us as he explained the drug-like feeling his protagonist clearly experienced as he broke the conventional boundaries of behaviour. Adding that the film was not solely about a love of football, he quoted John's girlfriend response to his objections of mowing the lawn or changing a light bulb:  'What's wrong with being happy?".  The script is a stark reminder for us all to remember what it is in our lives that makes us happy.
So, in summary, this film tackles an ambitious subject matter: the dark side of our nation's game as well as the tempting lack of personal control.  The acting is convincing, intense and, be warned, some of the scenes are deeply unsettling.  Perhaps it is an unsavoury contribution to British culture but, nevertheless, a must-see in my view.
I have 3 DVDs of I.D. to give away to my readers.  Subscribe to my blog to be entered into the prize draw!