There was a time (about 2 years ago) when I spent my time interviewing new business owners pretty regularly.  Recently launched entrepreneurs who I thought you might like to hear from, killer products we potentially couldn't live without or just a friend of friend of a friend whose business needed some blog support.
But then an office found me and I found that I had little time.
So, now in the (dis)guise of a photographer, I'm going to worm my way back into these homes/businesses and the plan is to bring you a series of blog posts called MEET.
_________________________________
Yesterday I met Marielle Wyse.  Previously a documentary maker at the BBC, she had been searching for some flexible work to allow her to work from home as her kids grew up around her.  A big cashmere wearer, it became startling obvious to Marielle that there was a gap in the market for cool cashmere with slightly unusual detailing but (crucially) at a stomach-able price point.
Her home in West London is the Wyse London office, showroom and warehouse.  I had been asked to encapsulate (in some images) her way of working, the detail and breadth of her brand and the warmth of her home – while all I really wanted to do was pull myself into each and every bit of this delicious cashmere hanging on the rails.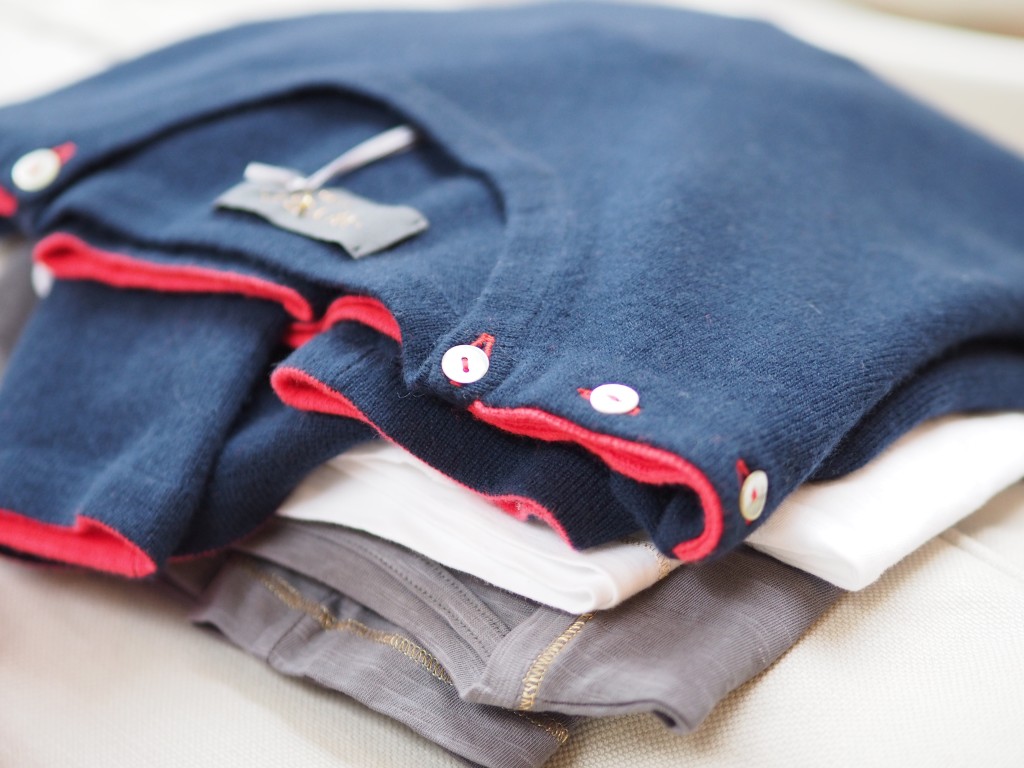 Clearly a work horse, Marielle hardly paused to sip her tea.  Website orders were coming in thick and fast, swatches being considered for new colour ways, repeat customers dropping by to snap up yet another grey breton… but I traipsed around after her asking questions and snapping whenever I could:
Why Wyse? I live in cashmere jumpers pretty much year round –  and was fed up with paying ridiculous prices for something that wasn't quite right.  The other (cheaper) option, which was plain and boring, but not right either.  So I thought I'd do my own thing, everything with a little detail, with a little twist and a little nod to fashion,  but not fashion-led.  Well priced, well cut and very very wearable. No-one wants countless trips to the dry cleaners.
When did you launch the business and how has it grown?
I had 6 pieces in November 2014, and now I'm in several shops around the country, lots of  home sales and a successful online business.  To say I'm busy is an understatement.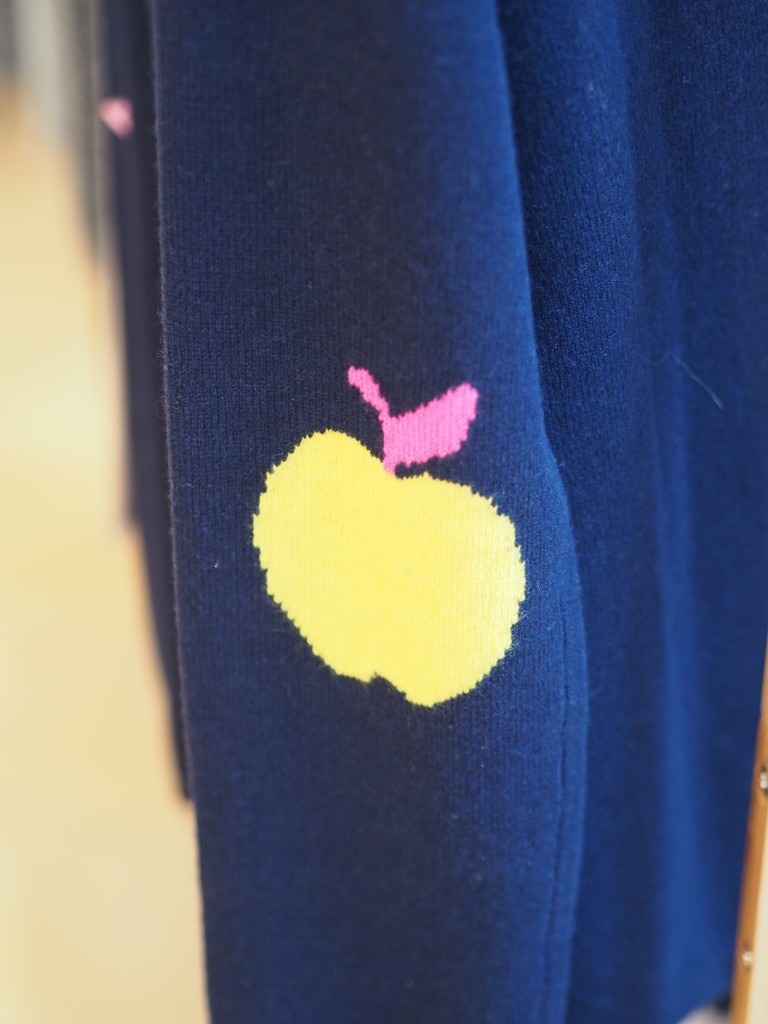 Which is your favourite jumper and why?  It's a joint first – the grey with gold lurex, and the rainbow breton.  I just love them both.  They are just the right amount of detail, people alway ask where they're from and they wash in the machine (wool wash obv.).  People think I wear a different one every day, but I don't.  I've got my favourites and I'm lazy when it comes to thinking about what to wear.
Now the cashmere joggers – what's next?
By the way, they are lethal as if you put them on (as I do with my Ugg slippers) as I find every excuse to not go out… PURE BLISS.  Next up are t-shirts,  menswear, kidswear and lots of gorgeous spring fresh colour and patterns.  Plus potentially items like a festival jumper which is cool for …well hanging out in at festivals…
What does wearing cashmere say about a woman's outfit?  It says she likes comfort, style, easy to wear things that make her feel good.  Shapes are so important too.  It's not just about comfort.
Tell us more about the rainbow theme?  
It's simply a happy jumper with a well placed rainbow so that it doesn't expand your boobs!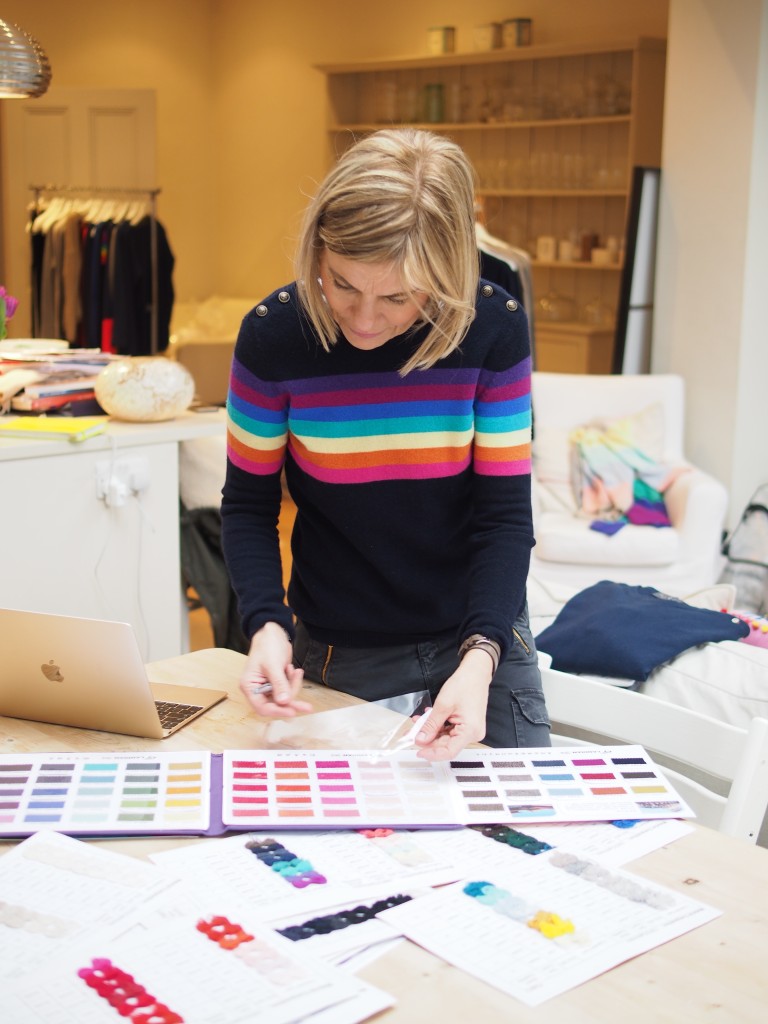 what are the growth plans for the brand?
I've called the brand Wyse London instead of Wyse cashmere as I don't want to just stick to cashmere.  I think there is a huge untapped market for the 40 plus woman who just wants something age appropriate and cool.
how is the Wyse word currently spreading?  and how can we help make Wyse worldwide?
Word of mouth, bloggers, instagram, people talk… I really think the Wyse word is getting out but yes please do tell your friends…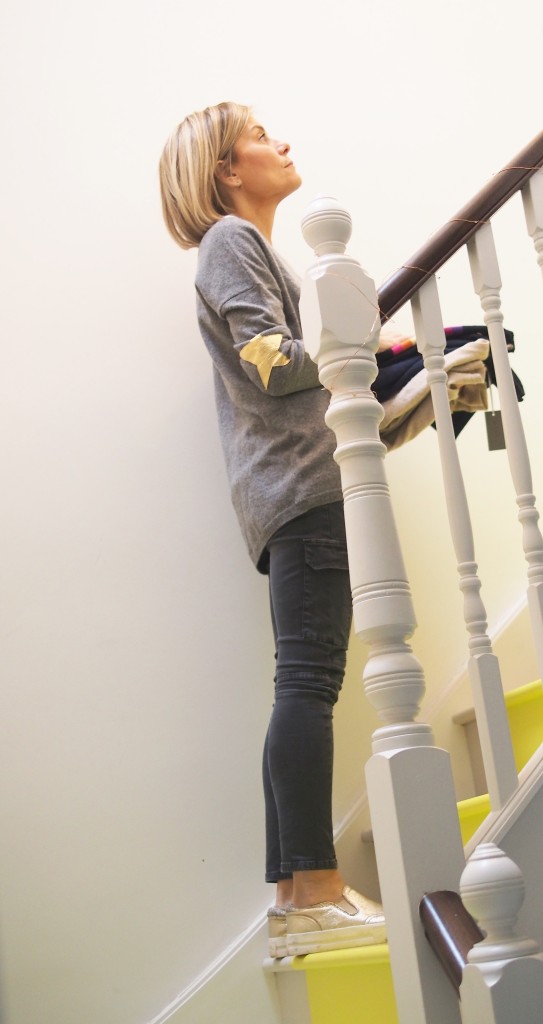 Tell us a cashmere secret.
Never dry clean, always wool wash in a netted bag with a blob of baby shampoo.  Oh and occasionally do an anti-moth chant.  It works.
To check out the full Wyse London range, click here.