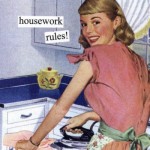 And so tomorrow is another day for idiots to be exploited by florists, greetings card manufacturers and restaurants.  I'm not calling Him and the kids idiots, but they too are clearly tempted to roll out a near-perfect Mother's Day for me.  Most of us want to make our mother feel loved, of course, but surely the familial efforts could be more imaginative and avoid the obvious commercial pit falls?
Quite simply, a date in the calendar cannot act like an emotional laxative, releasing Mother-love and appreciation. Drug and psychotherapy can bring that on, if really necessary.  For me, Mother's Day is a thoughtful day.  A day when I not only acknowledge my mother's relentless giving and helping hand in all that I do but also I find myself remembering everything my grandmother sacrificed for her, and for my generation in turn.
And while tasking my kids with clearing plates and making additional beds as acts of love, I will spare a thought for my strong friends who have lost their mothers, either almost a decade ago or in the last week.   So join me in a pensive day and try to avoid the paid-for compliments.