Have you ever played the game of picking out new body parts? It goes like this.  If I could choose my body it would have:  Jennifer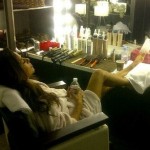 Aniston's eyes, Cameron Diaz's body, Sienna Miller's arms etc. And for my hair choice, I would, without doubt, go for Eva Longoria's lush locks.
Earlier this week I was at Harrods' Urban Retreat for the breakfast launch of Unite's new line, U Luxury.  Imagine my excitement to find out that Eva is a huge fan of the brand's hair products and here is the proof….
And now, my lips.  Shall I go for Julia Roberts'?