I have lived in three different homes over the last 15 years and each time I have moved no more than a street away from the last.  Here are some of my favourite haunts:
This is a theatre with a difference.  Specialising in commissioning and producing new writing as well as supporting and developing the work of new writers, Hampstead theatre has been an inspiring local cultural attraction since it first opened 53 years ago.
EtonAvenue  NW3 3EU
020 7722 9301
Lanka
The newcomer to the 'hood is the Japanese bakery and café, Lanka.  Its sister café in Primrose Hill has been a firm favourite of mine since it opened a couple of years ago.  Lanka Swiss Cottage only opened a month ago but already the smell of freshly baked green tea madeleines is wafting down the street.  Specialising in French-style patisserie and cakes but with a Japanese infusion, the café also offers a small daily menu of savoury dishes and good strong Monmouth bean coffees.  Perfect for a late breakfast or early lunch.
9 Goldhurst Terrace
Mon-Sat 10:30-18:30
Sun 11:00-17:00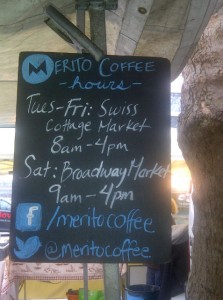 Merito Coffee Stall
Time Out was not wrong when it voted Merito's coffee the 'Best inNorth London'. But Jason does so much more than just man the stall.  Coffee guru and high-powered intellect, he makes the most exquisite Cappuccinos, flat whites, filtered and espresso coffees, sources his coffee (ethically of course) from around the world whilst suffering no fouls in his queue.  I hear coffee aficionados travel far for the treat, his tasty homemade baking and take the opportunity of purchasing his coffee beans (ground or whole) while supping the black stuff.
Swiss Cottage Market Tues – Fri 8am – 4pm
England's Lane Bookshop
This independent bookshop is one of my escapes from the hectic lives we all live. Although I have never made it to their Book Club, I keep promising myself that I will one day. The members of the club decide bureaucratically on the books (next one is The Paris Wife by Paula McLain).

Next event:  every 2nd Thursday of the month    7-8pm.  Free of charge.
Garuda
Garuda is where pilates and yoga combine to form human art and a revolutionary and holistic way to exercise.  Garuda was conceived and developed by James D'Silva, personal trainer to Madonna, Gwyneth Paltrow and Trudie Styler and has taken North West London by storm since he launched more than a decade ago.  Expect more toned muscles, better co-ordination and flexibility as well as a long waiting list.
50 & 54 Abbey Gardens   020 7624 5008