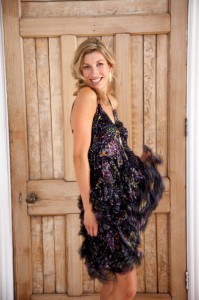 I was introduced to Pinky Laing a few years ago when networking dinner parties were my thing. As queen of all parties, Pinky was going to help me make the dinners even better.  However, over a breakfast meeting, we agreed that the dinner parties could wait as, between us, we had half a dozen better ideas to launch.
So it was no surprise to me to hear that Pinky's latest venture, her bespoke drummer boy jackets, is a massive success.
I dropped by Pinky's flat in Westbourne Grove to catch up on life:
Where does your love of military jackets come from?
My father was in the army and I was always crazy about his uniform. On top of this, in my 20s, I would customise every piece of clothing I had. I suppose I just loved looking a little different.
So are these second-hand army jackets?
Initially I was sourcing vintage jackets and embellishing them for clients, but since then, I have found the most incredible pattern cutter. With my design and direction, I have created a jacket which looks military, but is super-flattering at the same time. With elements of a hunting jacket, my female version gives you a nipped-in waist and covers a multitude of sins! The jackets seem to suit men and women of all shapes and sizes!
Who would be your dream stockist?
I think my jackets would look stunning in Matches (Ledbury Road), but I am also a huge fan of the Village Bicycle so would be delighted to see them in there too!
So you make these jackets for men too?
Yes, the men's jackets are really popular; my boyfriend looks fabulous in his navy blue one. I am also currently working on a range for children.
What else is in the pipeline?
My cigarette trousers just launched and are a big hit with some of my customers. They have a military stripe down each leg and a naughty zip which starts at the front waistband and ends in the small of your back!
Have you always lived in Westbourne Grove?
No. I am a newbie to Westbourne Grove as my stomping ground has always been Chelsea and South Kensington.
What do you adore and hate about west London?
I love walking down Portobello Road for inspiration, an early morning run in Hyde Park with my dogs and a night out at Notting Hill Arts Club. I hate the bendy buses and the litter in equal measure.
Finally, we are dying to know who wears your jackets?
Mimi Spencer, David Frampton, the girls at Tatler, Prince Harry's cousin and Kinvara Balfour is mid-way through designing hers at the moment.
this article appears on West London Living.